Trot Around for a Good Cause at the 2017 Edison Park Turkey Trot
For most people, Thanksgiving is all about good food and good times with loved ones. While that tradition doesn't need to be forgotten this year, another one you can add to your agenda is the Edison Park Turkey Trot.
Now in its 21st year, the 2017 Edison Park Turkey Trot is a fun walk/run for all that also helps raise money toward various worthy causes. In our guide to the 2017 Edison Park Turkey Trot in Chicago, IL, you can read about the organization benefiting from this year's race, and learn how you can take part in this wonderful occasion!
Race Day Details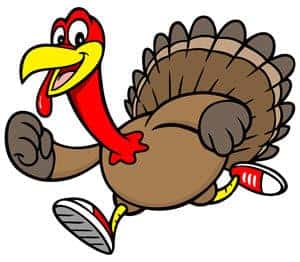 This year's turkey trot will take place on Thanksgiving morning, November 23rd. It'll begin at 9:30 a.m. at Edison Park Field House and will end at the same spot. All runners and walkers are welcome to partake in this 5K race, and there's even a Gobble Gallop for children ages 3-10.
Participants are highly encouraged to register ahead of time online to guarantee a spot and get the discounted rate of $20 (which goes up to $25 on race day). Early registration ends on November 20th, and the cost includes a T-shirt and bib number. Those can be picked up on November 18thand 19th at Fleet Feet, and November 20th at Emerald Isle.
Who This Race Benefits
Every year, proceeds from the turkey trot go toward a worthwhile cause—past recipients have included the Special Olympics and the American Heart Association.
This year, the race benefits the Muscular Dystrophy Association (MDA). This organization helps to free individuals and their loved ones from the harms of muscular dystrophy, ALS, and other muscle-debilitating diseases. They help children and adults live longer and grow stronger through research, and offer support and services in hometowns across the United States.
By participating in the 2017 Edison Park Turkey Trot, the MDA can get one step closer to finding cures for these impactful diseases.
Get to Trotting This Thanksgiving!
If you're ready to begin your Thanksgiving Day working up a sweat for a great cause, then be sure to register early for the 2017 Edison Park Turkey Trot. Also, don't forget to use the hashtag #epturkeytrot on all your social media posts, so your friends and family can learn more about this great event.