Make the Holidays Sweeter with These Best Bakeries near Chicago
Desserts are something most people enjoy all year round. Still, there's something about the holidays that make them taste even better. It might be from gathering with family or friends to enjoy a fresh baked good that's made with love.
For a delectable dessert that's sure to put a smile on your face, check out these best bakeries for holiday dessert near Chicago, IL.
Desserts Made from Traditional German Recipes
The origin of Dinkel's Bakery dates all the way back to the early 1900s, when Joseph K. Dinkel came to Chicago and brought over recipes from his native Bavaria, Germany. He opened a small shop with his wife, Antonie, in 1922, and it's been going strong ever since.
Today, you can find lots of sweet treats, like doughnuts, brownies, and cake pops. But one item you should definitely get your hands on is Dinkel's World Famous Stollen. The pure butter dough is hand-shaped and surrounds a butter-cream filling, almonds, cashews, and fruits that are soaked overnight in rum and brandy. The dessert is then glazed in melted butter and lightly dusted with powdered sugar or cinnamon sugar.
To see photos and videos of the Stollen and other available desserts, visit Dinkel's Bakery on Facebook.
Fresh & Fine European-Style Baked Goods
Oak Mill Bakery is known for creating baked goods using natural ingredients, like fresh fruits and purees, natural butter, and kosher chocolate imported directly from Europe. In this family-owned specialty bakery, everything is made from scratch and baked fresh each day for your enjoyment.
To start your day off right, you can enjoy a danish, coffee cake, sweet roll, or their popular mini cheese flaky. Or, if you want to end the night with a nice piece of cake, they have lots of delicious signature items to choose from. If you're feeling fancy, there's the Champagne cake, which is a chocolate cake with white chocolate mousse, plus raspberries, chocolate mousse, and rum.
Feast your eyes on lots of other desserts by checking out the Oak Mill Bakery Facebook page.
Demonstrating That the Best Things in Life Are Sweet
Sweet Mandy B's owner Cindy started baking traditional comfort desserts at home for friends and family members. Seeing how happy her treats made others, she decided to open the bakery's doors in 2002. You'll get a sense of warmth and nostalgia as soon as you step inside this neighborhood bakery, and that extends to the tasty items that are for sale.
When you want an individual dessert, there are different cookie flavors to choose from, like iced molasses and double chocolate oat with walnuts. If you'd rather share the wealth, there's a nice variety of pies that includes peanut butter chiffon, apple blueberry, and coconut cream.
There are also lots of cakes, bars, and other desserts that you can get, which you can see photos of on the Sweet Mandy B's Facebook page.
One of Chicago's Oldest Retail Bakeries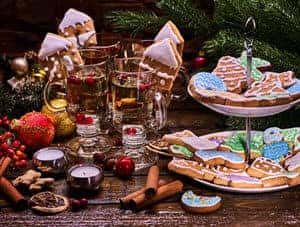 Weber's Bakery has been around since 1930, providing customers with high-quality breads, cakes, and pastries. They bake everything from scratch six days a week, and they're all hand-crafted by skilled bakers and decorators. This family-owned bakery also prides itself on providing courteous and efficient customer service, so people will keep coming back time and again.
They have lots of signature items for you to enjoy, including chocolate cake doughnuts and buttermilk pound cake. They also have Kolacky, which is a pastry that holds a dollop of fruit and is surrounded by a pillow of dough. They offer several varieties, including apricot, strawberry, and pineapple.
To see what they're baking today, visit Weber's Bakery on Facebook.
Enjoy a Fresh Baked Good Today!
No matter what time of year it is, the holidays or otherwise, you can always make time to enjoy a nice sweet treat. Visit any one of the above-mentioned bakeries, and nab yourself some delicious dessert today.