Give in to Your Chocolate Cravings with These Shops near Chicago
It's been said that eating dark chocolate can boost heart health and reduce the risk of stroke. If that's the case, we encourage you to eat a piece of chocolate every day, but not just any regular candy bar. Something silky and luxuriant, like gourmet chocolate.
When you're seeking a mouth-watering confectionary, you can get some from one of these best chocolate shops near Chicago, IL. Read below to find your next treat to indulge in.
Manufacturing the Finest Chocolate Since 1939
Blommer Chocolate Company is the largest cocoa processor and ingredient chocolate supplier in the United States. Founded in 1939, this family-owned and -operated company prides itself on maintaining high-quality products and customer service.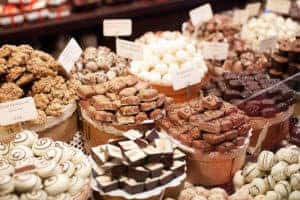 They have all kinds of chocolates, like the Chesapeake, which is a premium dark chocolate blend with subtle fruity notes. There's also D-milk, which is a full-bodied milk chocolate with a nice caramelized flavor. If you're more into white chocolate, there's Cascade White Chocolate, which has some sweet milky notes to it.
Check out their other products, plus learn how they make their chocolate, on the Blommer Chocolate Company Facebook page.
Creating Local-Focused Sweets
Katherine Anne Confections has been creating treats using local ingredients since 2006. They get their cream from a 500-cow herd from central Illinois, and they use local wildflower honey instead of corn syrup.
They have lots of different delicious products to choose from, such as the Brown Buttered Rum Truffle. They brown the butter until it gets nice and toasty, then blend it with milk and semi-sweet chocolate that has a generous splash of rum and a hint of orange. They also have Fleur de Sel Caramel, which is soft honey vanilla caramel wrapped in 72% cacao bittersweet chocolate and topped with a bit of French sea salt.
To see photos of other products they're serving, visit Katherine Anne Confections on Facebook.
Making Toffee from Grandma's Classic Recipe
Terry's Toffee is known for making gourmet toffee. Owner Terry began making his Grandmother McCall's toffee in 2002 and started sharing it with friends and family. Three years later, he and his partner Michael opened their Chicago-based shop.
Grandma's recipe is what inspired the McCall's Classic, which is a classic toffee blended with slivered almonds, coated in milk chocolate, and dusted with Georgia pecans. There are other variations of the toffee treat, including Cran-Orange Passion™. This one blends toffee with dried New England cranberries and California orange oil, then is covered in dark chocolate and sprinkled with sea salt.
Discover other toffee flavors on the Terry's Toffee Facebook page.
Selling Handmade Artisan Chocolates
Veruca Chocolates was founded by pediatrician-turned-chocolatier Heather Johnston. A survivor of Non-Hodgkin's Lymphoma, she became a pediatrician to reciprocate the care and compassion she received from her team of physicians. However, she'd later on discover a completely different way to provide comfort through making chocolate.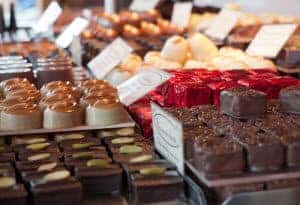 These chocolates are all handmade and hand-finished to please the eye, along with the palette. You'll find such confections as pumpkin caramel turtles, peanut butter gourmet s'mores, and pistachio & rum bonbons.
See photos of the available gourmet chocolates on the Veruca Chocolates Facebook page.
Enjoy a Sweet Piece of Chocolate Today
When you're looking for a nice treat at any point during your day, be sure to check out these chocolate shops in the Chicago area. You'll be enjoying a melt-in-your-mouth piece of chocolate before you know it.