Top Restaurants for Valentine's Day in Chicago IL
There's nothing like a romantic night out in Chicago, but when it comes to Valentine's Day, you'll want to ensure that you're set for a special evening. On top of getting together the flowers and the chocolates, you'll also need to figure out where you'll dine with your Valentine. Luckily, Chicago is home to some world-class restaurants that are worth checking out, regardless of the season.
However, we've assembled a list of the top restaurants for Valentine's Day in Chicago, IL.
EL Ideas
2419 West 14th Street, Chicago, IL          Facebook                 Instagram
If you're trying to plan a unique experience, EL Ideas may be the right spot for you. This isn't really a restaurant. Instead, it's a fine dining adventure. This spot breaks down the walls that restaurants are known for and shows you the hard work and dedication that goes into crafting each unique and inspired dish. They have a unique tasting menu that provides you with 11 courses with exotic flavors, memorable spices, and an alluring experience that'll keep you coming back. Make your reservation and pick out your best bottle of wine before heading out.
North Pond
2610 North Cannon Drive, Chicago, IL          Facebook                 Instagram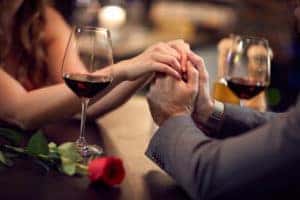 Do you want a beautiful view to complement the wonderful meal? North Pond is a farm-to-table restaurant inside Lincoln Park that overlooks the pond. They've got plenty of courses and plates for you to choose from, like Duck, Sturgeon, Pheasant, and even Monkfish, that encompasses a variety of fresh and interesting organic flavors. They even have an extensive wine list featuring several varieties and vintages to help you enjoy your romantic evening.
Oriole
661 West Walnut Street, Chicago, IL          Facebook                 Instagram
If you're looking for an adventure, you may want to check out Oriole. This upscale restaurant is hidden in an alley street in West Loop, but when you find it, it's like you located buried treasure. This classy restaurant features several amazing courses featuring dishes like Santa Barbara Sea Urchin, Alaskan King Crab, Berkshire Pork, and Capellini with dessert options like Sweet Potato Ice Cream, Lychee Sorbet, and a savory Croissant. Make your night memorable with the selections at Oriole in West Loop, Chicago.
Now that you're familiar with some of the classy and upscale restaurants in Chicago that offer delicious menu options and a great ambiance, you can decide which one will make the perfect place to spend your Valentine's Day with your loved one.