3 Best Taco Spots in Chicago IL
Tacos are more than just a staple of Taco Tuesday. They're great seven days a week if you ask us. Check out three of the best places to get tacos in Chicago below:
Antique Taco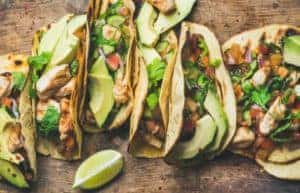 With three different locations, there are numerous ways to enjoy Antique Taco. But it always comes back to the tacos. Try the market mushroom taco with fresh mushrooms and red chile adobo or prepare your taste buds for an experience with the sweet & spicy chicken tacos.
The horchata milkshake is the perfect treat for a warm summer day, and there's even something for kids on the menu, too.
Have 20 friends or more? Antique Taco can cater your next event, dropping off all your favorites for a work lunch or family get-together.
Delivery is an option, too! Visit the Antique Taco website to have your next order delivered or sign up for the newsletter to learn about new items hitting the menu.
Cochinita Taco Co.
These modern, chef-driven tacos are delicious when paired with the tasty Mexican fare and refreshing tropical cocktails and beers found on the menu. Cochinita provides a fun yet casual experience and is a great place to watch the game, enjoy a margarita on the deck, or take some tacos to go.
Crowd favorites include the shrimp tacos with grilled pineapple salsa and the short rib tacos with avocado crème fraiche. If you're looking for something other than tacos, you're in luck! Try the chicken tinga quesadillas or enjoy the fresh Cochinita salad with chicken.
Want to make it a party? Check out the catering menu and choose your tacos, empanadas, and a whole lot more.
Tacos Mario's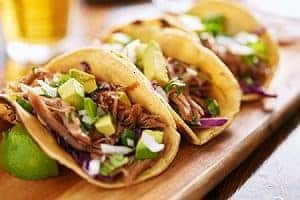 Indulge in some of the best Mexican food on Chicago's south side at Tacos Mario's. The tacos al pastor means the meat never touches a griddle, instead sliced off the spinning trompo onto the tortilla. A unique way of cooking makes for unique tacos.
Tacos are served with an array of toppings including cilantro, onions, tomato, and lettuce. The tacos al pastor is the house specialty, seasoned pork with a hint of pineapple. Top it with sour cream or avocado and enjoy tacos the way they were meant to be enjoyed. Try the burrito with your choice of meat or a delectable and filling vegetarian version.
View the full menu online or see the available packages to make any event you're hosting that much better (and tastier).
Talkin' 'Bout Tacos
All this talk about tacos is making us hungry! Take a trip and grab a fresh taco at any of these outstanding Chicago establishments today.