Best Places to Celebrate National Adopt a Cat Month
Whether you're looking for your next pet, or perhaps know a friend or family member who is looking for one, listen up! American Humane celebrates Adopt-a-Cat-Month every June. It's time to celebrate all things feline and give a cat a loving and caring forever home.
The Catcade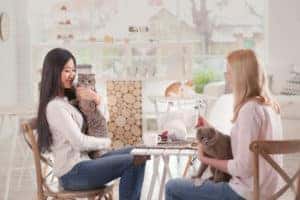 The Catcade's mission is to rescue cats from life-threatening situations like high-kill shelters, in an effort to find welcoming homes through the adoption program. This non-profit is an arcade-themed cat rescue and lounge, simulating what a home environment would be like instead of having cats in cages.
Best of all, the cats get to interact with humans in this living room atmosphere. Bring your laptop to do some work, sign up and stretch out with cat yoga, or make it a blast from the past with the free-play arcade games. While you're there, you just may find a loving new friend. All cats have been vaccinated, spayed or neutered, and microchipped, and are ready for same-day adoption.
Felines & Canines
Located in Chicago's Edgewater neighborhood, Felines & Canines is an adoption center focused on moving both dogs and cats into permanent loving homes. F & C is known for exceptional care for all animals and adopters, and also has a groundbreaking program for FIV-positive cats.
Founded back in 1977, this is a cageless, no-kill cat shelter, with exceptional housing and care for more than 200 felines. Once an animal has joined the family, Felines & Canines makes a commitment to care for that animal for a lifetime. After an adoption, you'll find that the staff is accessible, and there are always resources available long after you take kitty home for the first time.
Harmony House for Cats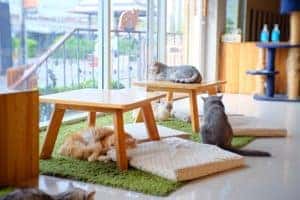 The eco-friendly Harmony House is a cageless no-kill center for cats. An adult cat can be an ideal choice if you work all day, or are looking for a companion for your current pet. Whether you want a laid-back lap cat or a real bundle of energy, the adoption counselors will help you choose the one that's right for you and your family.
All adopters are encouraged to come as early as possible, to spend time with the cats and kittens up for adoption. It's best to have all members of the household present at time of adoption, including family, roommates, and children. Harmony House is proud to hold events and fundraisers throughout the year, too, which provide great ways of supporting their program.
Adopt a New Feline Friend
Celebrate National Adopt-a-Cat Month! All three of these adoption facilities are easy to work with and have cats ready for you to adopt. Pay them a visit and find your next four-legged friend.