Guide to the Chicago Thanksgiving Parade
Start off Thanksgiving Day the right way, by heading out to the Chicago Thanksgiving Parade, where grateful hearts gather. It's a chance to spend time with family before sitting down at the table for a delicious meal.
Parade Info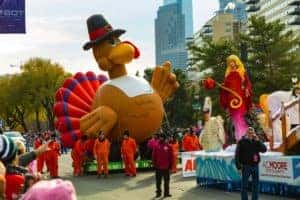 The Chicago Thanksgiving Parade is held on Thanksgiving morning, November 22, from 8:00 AM to 11:00 AM. It takes place on State St., running from Congress to Randolph. The parade features giant inflatable balloons, spectacular performance acts (including dance troupes and marching bands), and so much more.
While the parade is fun to watch in person, you can join Santa Claus, the marching bands, and the many performers by tuning in on your TV. Catch all the entertainment on WGN America and WGN9, beginning at 8:00 AM. The parade will also be streaming online at wgntv.com.
How to Participate in the Parade
Want to get involved with the parade? Applications are currently closed for participation in the 2018 parade, but applications for the 2019 Chicago Thanksgiving Parade are available online. Want to start a new tradition on Thanksgiving? You can be in the parade by joining the crew of outstanding volunteers. Volunteer individually and meet some new people, or volunteer with friends and family.
Want to be a VIP? Get the best view of the parade from the Television Zone. There's limited seating available for this, so you'll want to reserve your spot prior to the parade. This VIP experience includes the opportunity to see the parade performances happen right before your eyes. This is the only spot to see the staged performances, which are for TV only.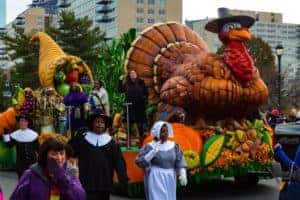 There will be general admission bleacher seating and private portable restrooms for this area only. Food and drink will be available for purchase.
Experience the Thanksgiving Parade
Whether you're part of the parade, volunteering your time, or just watching on television at home, the Chicago Thanksgiving Parade is so much fun to be a part of. Experience the parade the way you want to this year!