Guide to the 2018 West Fest in Chicago IL
West Fest is an annual street festival, planned and managed by the West Town Chamber of Commerce. With attention given to local offerings and talent, the event places a focus on neighborhood retailers, restaurants, artists, crafters, and more. And, of course, there's always plenty of live music.
West Fest Dates and Times
The family- and dog-friendly atmosphere makes West Fest a fun place to be for everyone. The West Town neighborhood is proud to host the event each year. Here are the important things you need to know.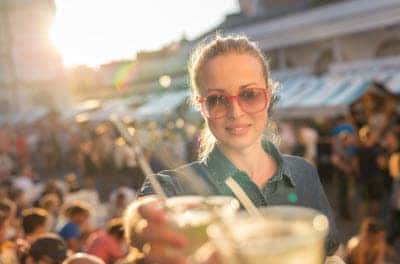 When is it? West Fest takes place July 6 through July 8. Friday's events run from 5:00 PM to 10:00 PM, while Saturday and Sunday fest times are 12:00 PM to 10 PM.
Where's it all happening? The annual street fest goes down on Chicago Avenue between Damien Avenue and Wood Street.
Does it cost anything? The festival is free, but there is a $5 donation requested to attend. Proceeds benefit local non-profits, including the West Town Chamber of Commerce and local schools.
Events include:
Pet Fest: This runs from 12:00 PM to 6 PM on Saturday and Sunday, featuring a charity dog wash, dog obstacle course, paw painting, pet retail booths, and a whole lot more. All proceeds benefit Alive Rescue and One Tail at a Time.
Kid Fest: This runs from 12:00 PM to 7PM on Saturday and Sunday, organized by and benefitting Talcott Fine Arts & Museum Academy. This part of the fest includes bounce houses, pony rides, carnival games, and kid-friendly vendors.
West Fest Live Music
Empty Bottle Presents the West Fest live music lineup, which includes:
Kevin Morby
Joey Purp
The Make-Up
Campdogzz
Anna Burch
Derrick Carter
Mark Farina
And more!
We'll See You at West Fest 2018
The 2018 edition of West Fest is here! Since 2004, this locally planned and managed event has focused on local offerings and talent, and this year is no different. There's always something for everyone at West Fest!