Tony Marino's Picks for the Best Hot Dogs near Chicago IL

American cuisine, like a good, old-fashioned hot dog, never goes out of style. You can publish or promote any strict, no-fun diet, but droves of hungry hot-dog lovers come out of the woodwork to satisfy their guilty pleasures.
Franks fresh off the grill shout out summer, but you don't have to wait until the Fourth of July to bite into a red hot. Wind, snow, or polar vortex cannot stop faithful hot dog fiends from ordering up Chicago-style hot dogs.
Tony Marino makes his picks for best hot dogs near Chicago, IL, to drool over. You'll be delighted with these choices!
Gene & Jude's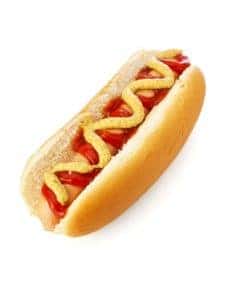 Starting out in 1946, Gene & Jude's adheres to strict rules of hot dog preparation. "No Seats. No Ketchup. No Pretense. No Nonsense." And they mean it! Their dedication to making superior Chicago-style hot dogs shows in their single-minded approach and lines looping around the building year-round.
Serving two hot dog options means that you get the perfectly mastered hot dog with crisp fries either on the side or right on top. When you get your frank, it sits in a poppy seed bun, topped with a brightly colored feast of toppings, including bright yellow mustard, neon green relish, pearly chopped onions, red tomatoes, tangy pickles, zesty sport peppers, and a dash of celery salt. View photos on their Instagram page!
Portillo's
Get obsessed with Portillo's, which opened in 1963 in a small trailer that didn't even have plumbing! Instead, they ran 250 feet of garden hose to make do. However, that didn't deter founder Dick Portillo from building an eatery that spread to multiple locations in Illinois, California, Indiana, Arizona, Florida, Wisconsin, and Minnesota.
While they offer a wide range of tantalizing foods, they began as a hot dog stand, a cuisine they've mastered. Choose between the traditional hot dog with a host of Chicago-style toppings, referred to by those in the know as "dragging the dog through the garden," and loaded chili cheese dogs topped with American cheese and covered with hearty chili and onions. Visit their Facebook page for more!
Superdawg® Drive-in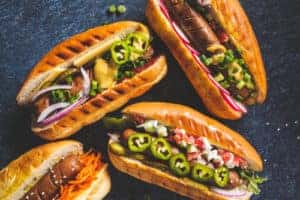 Superdawg Drive-in began as a love story between two high school sweethearts, Maurie and Flaurie Berman, who started a hot dog stand in 1948 while Maurie studied to become a CPA and Flaurie worked as a teacher. During summer break, they invented the business that would become the Superdawg Drive-in.
To stand out from the other hot dog stands, the couple created the hot dog famously named Superdawg featuring a special secret sauce. They added a handful of new menu choices, but the Superdawg retains its popularity as a beloved trademark figure and tasty treasure. The original drive-in continues to operate and charms customers all over Chicago. Become a fan on Facebook!
Bite into the Best Hot Dogs near Chicago IL
Hungry for a hot dog? Bite into Tony Marino's picks for best hot dogs near Chicago, IL.