Local Spotlight: Jade Bridal

You're engaged, and it's time to start wedding planning. It's an exciting process, and it can also mean that it's time to shop for your wedding dress! Maybe you've found some favorites or are just beginning the process. Either way, if you're around Chicago and looking to start bridal gown shopping, check out Jade Bridal.
Getting to Know Jade Bridal
Jade Bridal was opened in 2014 by designer Wini Wu. She wanted to open a bridal shop that not only helped women find their perfect dress but fall in love and embrace their authentic beauty. The bridal shop has a strong focus on giving a woman confidence, love, and that gorgeous gown for her special day.
Dresses Galore
With an eye for style and design, Wu and her consultants will help you find the dress that fits you best, and you feel confident wearing it. They have a wide range of styles and designers, so there is plenty for you to choose from. You can even get some accessories and a veil all from one store.
Not only will Wu and her team help you find the perfect dress, but you can also get alterations done in-house, so you know your dress will look good on your wedding day. If you need your own cleaned, Jade Bridal also offers dry cleaning and steaming services, not only for wedding dresses but other formal gowns.
How Bridal Appointments Work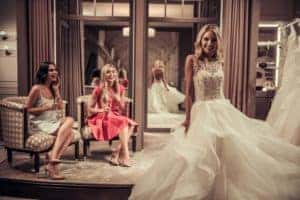 Jade Bridal works on an appointment-only system. This means you have to book an appointment to look at dresses. The good news about this is you get dedicated time with a consultant who will help you find the dress you want.
If you have an idea of what type of dress you're looking for, let your consultant know. If you have anything specific in mind, show them! This will help give your consultant a place to start, and you might even get to try on the dress you've been eyeing online.
Then, it's time to try on a few dresses! Bring a friend or two with you if you want some other opinions–and don't forget to have a good time!
Check Out These Gorgeous Dresses
Choosing your dress is an integral part of your big day. Whether you're ready to schedule an appointment or are still checking out your favorites online, be sure to check out Jade Bridal's Instagram. There, you'll get a look at some gorgeous dresses in all kinds of styles, from A-line to Trumpet.