Tips for Trading in Your Car
Trading in your car is arguably the best method of lowering the final price of a new vehicle – especially now. These days, car trade-ins are getting top dollar.
Thanks to a new Illinois law that went into effect on January 1, 2022, car buyers now receive the full tax credit on trade-ins. When shopping for a new car, the tax savings created by a trade-in can be significant. The tax credit on a trade-in worth $20,000, for example, could be as high as $2,000, saving the buyer $1,000 compared to the savings with the capped trade-in credit. Buyers shopping for a new vehicle don't need to do anything to take advantage of this new law; the trade-in credit is automatically added at the time of purchase.
When you trade in your car, your old vehicle's value is deducted from your new vehicle's price. In other words, once you've settled on a deal, the auto dealership takes care of the entire process for you. Compared with selling the vehicle on your own, you could be saving yourself weeks trying to find buyers.
Read below for information about the trading-in process as well as tips on the best ways to maximize your trade-in.
Find Out What Your Trade-In is Worth
If you're interested in trading in your old car, your first step is understanding what your vehicle is worth and how much you owe on it. The more informed you are about your car, the more confident you will be as you go through the process.
Marino Chrysler Jeep Dodge Ram pays top dollar for trade-ins and allows our customers access to the same exact data that we do to determine a car's worth. Our online tool helps customers to avoid extensive market research.
You can value your trade-in at https://www.marinochryslerjeepdodge.net/value-your-trade/
Increase the Value of Your Trade-In
 By doing some preliminary legwork, you can boost the value of your current vehicle. Your car's trade-in value will be based on its condition, which includes aesthetics. The more work you're willing to do on your vehicle beforehand can increase the value of your trade-in. At a minimum, you'll want to clean your vehicle inside and out. Read below for more tips on how you can increase the value of your trade-in.
Address any Overdue Maintenance

One way that you can raise the value of your current car is to ensure that it's up to date on maintenance. This may be as simple as an oil change or tire rotation. However, if you've fallen behind on maintenance visits and suspect that there could be damage to the engine, you'll definitely want to address these repairs as well: an impaired motor can significantly decrease a vehicle's worth.
Prior to shelling out cash for an expensive repair, you should double check that you'll see a return on investment in the final sale price. If you discover that you won't benefit from these repairs, leave your vehicle as is and don't let this discourage you from trading it in.
Pro-Tip: If you've been consistent with your car's routine maintenance up to the point of trading it in, there's little financial sense in paying for its next major routine maintenance service: Try to time your trade-in for before your next service milestone.
Schedule a service appointment with our technicians via our Online Service Scheduler at https://www.marinochryslerjeepdodge.net/online-service-scheduler/
Detail Your Car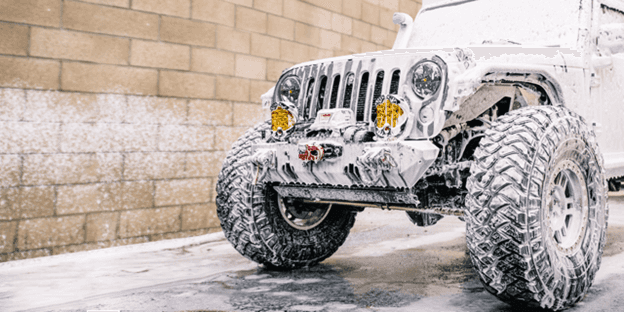 Your vehicle should look its best for you to get the best trade-in value possible: a cleaned and detailed vehicle is simply worth more at trade-in. Getting your vehicle detailed, especially if it has dents or dings, will help your trade-in look even more attractive to the dealer. This means addressing any obvious scratches, dents, or cosmetic imperfections.
Think of detailing your car as being similar to staging a house for resale: curb appeal matters.
Pro-Tip: Keep receipts for repairs and maintenance visits. These can prove to the dealer that you took care of the vehicle.
Trade In Your Car at the Best Time
The first half of the year is often the best time for getting a strong trade-in offer for your vehicle. Although there are many factors to consider, buyer demand tends to be higher during the first part of the year. Dealerships also typically need more used car inventory in the first half of the year. There's also an argument for good trade-in value at the start of a new model year since dealers will be eager to make deals to get cars off their lots.
________________________
At Marino Chrysler Jeep Dodge Ram, we make the trade-in process as simple and straightforward as possible for our customers. The best intentions of our customers are always our #1 priority. We are a preferred partner with CarMax, which means we can get a number on your trade from them as well to save you the trip and the hassle. We're also happy to obtain numbers from Carvana's trade-in estimator to ensure that you're getting the best possible deal on your trade.
Want to learn more about how we can help with your trade? Our finance team is on hand to answer all of your questions about the trade-in process and help you find a vehicle that matches your budget.
Give us a call at 888-546-5779 or contact us online!