The Top Spots in Chicago to Watch the World Cup
Every four years, the top men's soccer teams in the world gather to crown a champion. This time around, the 2018 FIFA World Cup takes place in Russia, the first time the Cup has ever hit Eastern Europe.
But if you don't have plans to travel there for the games, you need somewhere to watch them! We've put together this list of three spots to watch the games in the area.
The Globe Pub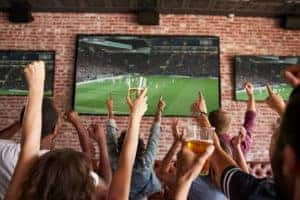 The Globe Pub offers a simple mantra: Every game, every sport, every day. Needless to say, it's the place to be for the 2018 World Cup. When you want to see a game, they'll bring it to you. With 30 televisions, the screens will be filled with all the action throughout the summer.
There are always great events going on, and if you want to throw a party of your own at the venue, you can do that. Tuesday is trivia night; a chance to test your skills against other trivia masters. There are over 400 beers of all styles to choose from, with 45 draft lines and many other bottles to explore. Weekends bring a full breakfast menu, while the kitchen is open until midnight each day.
Root on your team at The Globe Pub!
Miller's Pub
This has been a Loop destination since 1935. Get comfortable in a booth and enjoy the delicious American cuisine, or find a seat at the 50-foot bar while watching any game on one of the many televisions. While you're there, check out the pictures of the movie stars, athletes, musicians, and local politicians who have frequented Miller's over the years.
Indulge in a slab of the BBQ ribs or Canadian baby back ribs, try out a delicious steak, or chow down on a burger. The beer menu is large and always changing, and there's a long list of house cocktails worth checking out, too.
Stay up-to-date with the latest happenings at Miller's by visiting their website or checking them out on Facebook.
Monk's Pub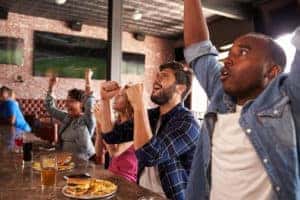 This pub has been a staple in Chicago since 1978. Food-wise, the chili beer cheeseburger is an award-winning burger worth seeking out. There are always events to check out, like Chicago Craft Beer Week. Tap features and keg tappings occur regularly, too.
The beer menu includes many cans and bottles, along with a massive tap list. The food menu is stacked from top to bottom. Kick off any meal with pork sliders, a hummus plate, or wings, then move on to the burgers. All burgers are a blend of certified angus beef, brisket, and short rib.
Cozy up to the bar with a beer in hand and a plate in front of you, kick back, and take in all the World Cup action in style.
Get Your Game On!
The World Cup captivates the globe every four years. Watch your favorite players and teams at any of these three great pubs in Chicago!