Top Steakhouses near Chicago IL


Are you ready for a night out you won't soon forget? You'll want to visit the top steakhouses near Chicago, IL, not only for a great cut of meat but a special evening in a relaxed, welcoming atmosphere.
Chicago Cut Steakhouse
If you walk into Chicago Cut Steakhouse, there's a great chance that not only will you enjoy a delicious meal, but you'll run into some sort of celebrity, be it a local athlete, politician, or actor. It's that kind of feel that makes any visit to Chicago Cut a unique one.
The owners of Chicago Cut set out to put a new stamp on the classic American steakhouse. That's always reflected via the menu items, from the USDA Prime steaks to the fresh salads to the seafood, and an extensive wine list.
From the dry aging room, select from USDA Prime beef like a bone-in rib eye done to your preference, a Delmonico steak that has to be seen to be believed, or a New York strip, for that feel of Broadway while hanging out in the Windy City.
Want to host your private event at Chicago Cut? The menu, service, and expansive wine list make for a party you won't soon forget. Weddings, special occasions, and holiday gatherings for up to 100 people can be accommodated.
Gibsons Bar & Steakhouse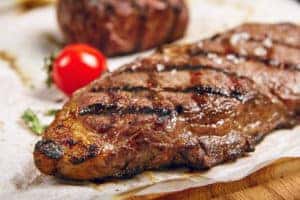 For over 30 years, Gibsons has been a staple steakhouse in Chicago. Partners Hugo Ralli and Steve Lombardo opened Gibsons with the idea that the classic American steakhouse should be accessible for all. It was recognized as the first steakhouse in the country to be awarded its own USDA certification program, with Gibsons Prime Angus Beef found alongside fresh fish, cocktails, a long wine list, and exceptional service.
Celebrities, vacationers, and loyal residents populate the three different Gibsons locations, all in the name of great steak and a relaxing evening out.
Gibsons Prime Angus is carefully chosen from a select list of producers in the upper Midwest. The beef is corn-fed for up to 120 days, and aged for a minimum of 40 days. The result? There's plenty to choose from, be it filet mignon, New York strip, porterhouse, and T-bone.
Stake Out a Great Steakhouse
Whether you're hopping in an Uber and heading to Chicago Cut, or dining out at Gibsons, you're in for a great night. These top steakhouses near Chicago know exceptional steaks, exceptional service, and how to deliver an exceptional experience.