2018 Jeep Wrangler JK Dashboard Symbols
The 2018 Jeep Wrangler JK can bring you to any adventure. In fact, it's the perfect companion for an off-road adventure near Chicago, Skokie, Park Ridge, or Forest Park. But, maintaining the Wrangler JK is important, and occasionally, dashboard symbols can turn on, signifying maintenance may be needed. Other dashboard lights are indicators; these are letting you know of an activated vehicle feature or operation.
Marino Chrysler Jeep Dodge Ram has compiled this dashboard symbols guide to help you keep track of what those dashboard symbols mean.
Jeep Wrangler JK Indicator Lights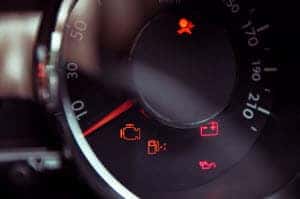 These are the lights that turn on during your daily drives. These indicator lights even include basic things like a turn signal or headlights. If a light turns on when you aren't using a certain feature, or a light won't turn off when a feature isn't in use, contact our service center. Here are some of the indicator lights in the Wrangler JK:
High Beams: This light looks like the letter D, with horizontal lines coming off the left to show that the high beams are on. Adjust when other vehicles are nearby.
4-Wheel Drive: When this light is turned on, you'll see the words "4D LOW" in all caps. This means the car is currently in the four-wheel drive LOW mode, ready to handle low-traction surfaces.
Cruise Control: This light looks like a speedometer and will be on when the cruise control feature has been set but is not activated.
Jeep Wrangler JK Warning Lights
If a warning light is on, the vehicle has determined a system isn't functioning as it should. Yellow warning lights signify a potential issue that you should keep your eye on and have checked out soon. Red warning lights, on the other hand, signify a serious issue, and immediate action should be taken.
Here are some warning lights to keep track of:
Oil: This red light, which is shaped like an oil can, might be telling you that there's not enough oil in the car, or that the oil pressure is low. Pull over as soon as possible and turn the car off.
Brakes: If the letters "ABS" pop up in all caps, it means the anti-lock brake system isn't functioning as it should. Bring your vehicle to our service center for a look.
Tire Pressure: This light looks like an exclamation point inside of two parentheses. When it turns on, that means pressure in at least one tire is lower than pressure in the others. Fill the tires with air when possible, and if the issue does not go away, get in touch with our service professionals.
Fuel Warning: This yellow-hued light will turn on when the fuel level has dipped below two gallons. Go to the gas station to fill up. If the light does not turn off, there may be an issue with the fuel tank for our service team to look at.
Auto Start/Stop Light
Save fuel using the auto/start stop system. This green light, which looks like the letter A with a circular arrow surrounding it, will turn on when the system is on and you're stopped at a light with your foot on the brake pedal. Press down the accelerator to seamlessly restart the engine.
Schedule a Service Visit Today
We hope this dashboard light guide has helped you learn more about your 2018 Jeep Wrangler JK. If you have any questions, or one of the warning lights has turned on, reach out to us.
Schedule a service appointment on our website or visit our service department online.