2018 Jeep Wrangler JL Dashboard Symbols
Let the 2018 Jeep Wrangler JL take you on an adventure. This Jeep is the perfect vehicle for any off-roading excursion near Chicago, Skokie, Park Ridge, or Forest Park. But it's also convenient for daily drives around town or for a trip out with the entire family.
Keeping track of maintenance with your Jeep Wrangler JL is important. When driving, dashboard symbols may light up, signifying maintenance might be necessary. Other dashboard lights work to let you know the vehicle is operating properly or that a feature has been activated. At Marino Chrysler Jeep Dodge Ram, we've put together this dashboard light guide to explain these symbols.
Jeep Wrangler JL Indicator Lights
These lights are the common lights that come on throughout the course of a drive. Indicator lights include the basic functions of your vehicle, like a turn signal or headlights. If a light has turned on when you aren't using a feature or it won't turn off at all, reach out to our service professionals.
Here are a few examples of indicator lights: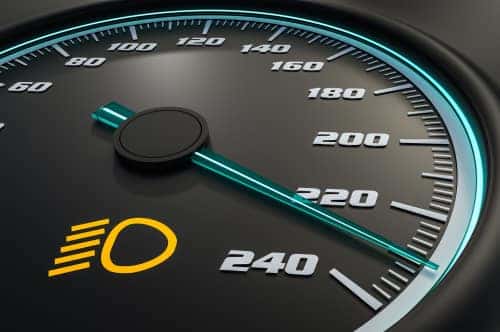 High Beams. Shaped like the letter "D," this light has horizontal lines coming off the left to let you know the high beams are on. Adjust them as needed around other vehicles or oncoming traffic.
4-Wheel Drive. If you're heading off the road in your Wrangler JL, 4-wheel drive comes in handy. This light says "4D LOW" in all caps, meaning the car is currently in the 4-wheel drive LOW mode, prepared to tackle low-traction surfaces.
Cruise Control. Find a cruising speed, then set it and forget it with cruise control. This light looks like a speedometer and will turn on when cruise control is activated.
Want to upgrade? Check out this year's model! 
Jeep Dashboard Warning Lights
If a warning light is on, your Jeep's "central nervous system" has determined the car isn't functioning properly. Yellow warning lights mean there's a potential concern that should be checked out soon. Red warning lights, meanwhile, signify a more serious issue, and immediate action should be taken.
Here are a few of the warning lights that could turn on: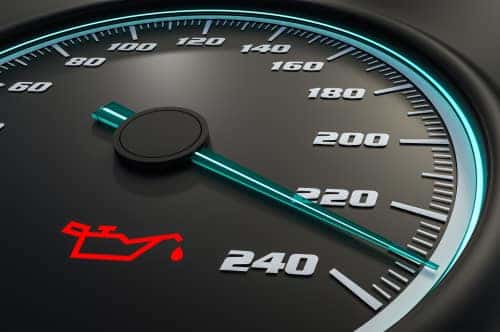 Oil Pressure. Shaped like an oil can, this red light will turn on when there's not enough oil in the car, or oil pressure is low. Pull over to the side of the road, turn the car off, and then add oil after letting the car cool down for a few minutes.
Brakes. If the letters "ABS" pop up on the dashboard in a yellow color, the anti-lock brake system isn't working properly. Make sure to brake earlier when pressing the pedal.
Tire Pressure. This light looks like parentheses surrounding an exclamation point. When it comes on, the car has recognized that pressure in at least one tire is low. Check all four tires with a tire gauge, and fill with air when appropriate.
Fuel Warning. When you have less than two gallons of gas remaining, this light will turn on. Head to the gas station to fill your tank. If the light remains on even after filling up, there may be an issue with the fuel tank.
Auto Start/Stop Light
The auto/start stop system saves fuel when the car is at a full stop. Press down on the brake at a stoplight, and you'll see a green light with the letter A turn on in the dashboard. This means the auto/start stop functionality is activated, and the engine is off. Release the brake and press on the accelerator to seamlessly restart the engine.
Visit Our Jeep Service Professionals
While many dashboard lights in your 2018 Jeep Wrangler JL exist to inform you on your drive, occasionally, a light will turn on that requires attention. For complete service and maintenance, visit Marino Chrysler Jeep Dodge Ram! We serve drivers across the region in Chicago, Skokie, Park Ridge, and Forest Park.