2019 Ram 1500 Dashboard Symbols
The 2019 Ram 1500 is a tough, durable truck capable of providing strong performance on the roadways and at a job site. But, when a dashboard light ticks on, you might be wondering what it means.
At Marino Chrysler Jeep Dodge Ram, we've put together this guide for the 2019 Ram 1500 dashboard symbols. Drive the roads of Chicago, Skokie, Park Ridge, and Forest Park confidently using this guide as an aid!
Ram 1500 Indicator Lights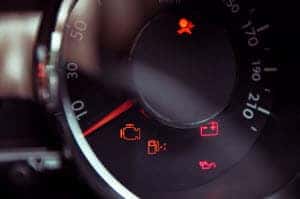 These are more of your garden-variety dashboard lights. They'll come on and turn off as you go about your day, and even include things like turn signals.
High beams: This light, with several lines coming out of it, tells you that your high beams are on. Make sure to turn them off as other vehicles approach.
Cruise control: This looks like a speedometer with an arrow coming out of it, letting you know cruise control is turned on. When this light doesn't have the arrow, it means that cruise control is ready to be activated.
Electronic stability control: This looks like a car with tire marks behind it. The electronic stability control system keeps the wheels of the Ram 1500 moving, even when there are tough road conditions like snow or rain.
Ram 1500 Warning Lights
These lights will typically indicate that an issue requires attention. Generally speaking, a yellow light is an issue that you should keep an eye on. A red light means an immediate concern that needs attention.
Seat Belt: If someone inside the vehicle doesn't have their seatbelt on, this light will illuminate. Ensure everyone inside the vehicle is buckled up.
Check Engine: This is a common light. Shaped like an engine and in a yellow hue, it could mean one of many things. Bring your Ram 1500 to our service professionals for a look.
Brakes: This red light is the word "BRAKE" in all caps. Check to see if your emergency brake is on. If the emergency brake is off, this could signify a more serious issue with the brake system, which should be investigated as soon as possible.
Low Oil: This light, shaped like an oil can, means that there may not be enough oil in the vehicle, but it could be another issue. If this light comes on, pull over as soon as possible in a safe spot and shut the engine off. Check the engine oil level and give our service center professionals a call.
Engine Temperature: This light looks like a thermometer with wavy lines. It can be trying to tell you that the engine is overheating. Coolant levels may be low, which could lead to the engine not absorbing heat properly. Pull over and check coolant levels.
Auto Start/Stop Light
The auto start/stop light lets you know whether the auto start/stop system is activated. When fully stopped at a stoplight, a green light in the dashboard with the letter A will signify if the system is activated. This means the engine is off, saving fuel in the process. Press the accelerator to start moving again, and the engine will seamlessly restart.
Visit Our Service Center Today
The service department at Marino Chrysler Jeep Dodge Ram is here to answer questions about dashboard symbols and service. Schedule service online, and we'll get to the bottom of that check engine light or other dashboard symbol.
Backed by a knowledgeable service team and this helpful dashboard symbol guide, travel through Chicago, Skokie, Park Ridge, and Forest Park in the 2019 Ram 1500.