Chrysler Dealer near Park Ridge IL
Across the dividing line of the Des Plaines River and just miles from Chicago O'Hare International Airport, you'll find the industrious town of Park Ridge, IL. Home to nearly 37,500 residents and counting, this city retreat has developed a great reputation entirely its own.
Having been built on a literal ridge, early residents were drawn to the town by its many clay deposits. It was the ideal location for brickwork, a trade that characterized its early industry.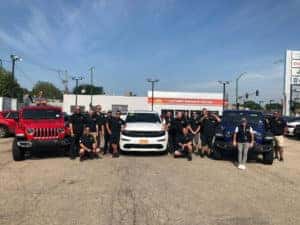 The town is now more well known for its awesome old-school architecture and businesses. The famous Pickwick Theatre, an art deco building and cultural hub, is a clear favorite of the locals. The Wildwood Nature Center, too, is a haven for nature lovers.
With its quieter atmosphere and small-town charm, this town is frequented by nearby Chicago natives. If you're looking for a Chrysler dealer near Park Ridge, IL, to help you get there, our team can help.
Turn to Our Park Ridge Dealer for Your Vehicle Needs
City life can get hectic, even when you're living just outside of Chicago. When you take the time to visit our business (or any business), you deserve a bit of relaxation.
The car buying process doesn't need to be a stressful one. You should be excited by the prospect of driving home in a new Chrysler. The actual purchase shouldn't put a damper on that.
When you walk into Marino Chrysler Jeep Dodge Ram, you'll be struck by how calm and genial the environment is. And while we're working with you, it's a feeling we're determined to maintain.
Let's Point You in the Right Direction

We have a lot of cars on our lot: a veritable sea of new, used, and certified pre-owned vehicles. But word has it you're looking for a Chrysler. So, let's show you where to look.
Start by checking out our inventory online. This is a great place to compare vehicles specs, features, and prices. From there, you can get a good idea of what you're looking for.
When you visit, one of our sales representatives will take the time to show you around. They can demo some of your favorite Chrysler gadgets and even help you get behind the wheel.
Financing Doesn't Have to Be a Pain
After you settle on something special, we'll take you to our finance department. Even though you can also apply for financing online, it's always a good idea to hash things out with an expert.
They'll need to talk about your credit history, but don't sweat it. They work with some excellent lenders, and they're going to find a solution for you no matter what.
Get Acquainted with Our Service Department
Routine maintenance is a must. It's the easiest way to keep your car running at peak performance.
When the time comes for service or even big repairs, contact our technicians to schedule an appointment. You can do this over the phone or on our website (for your convenience). They'll get back to you in no time to take care of the problem.
Your New Chrysler near Park Ridge is Calling
Do you hear that? I believe it's the sound of an engine, revving in the distance. It must be your new car, calling out to you from the lot of our Chrysler dealer near Park Ridge, IL.
Don't neglect that poor vehicle! Visit us at Marino Chrysler Jeep Dodge Ram today to get acquainted.
Marino Chrysler Jeep Dodge Ram is located at:
5133 W Irving Park Rd • Chicago, IL 60641