2017 Chrysler Pacifica Technology
In order to compete in the modern automobile market, vehicles have to feature state-of-the-art technology. To see a car without a screen in the dash is just odd now, but demands are way higher than a simple touch screen. Drivers in the Chicago, Skokie and Park Ridge areas already know all about quality technology, so they deserve only the best.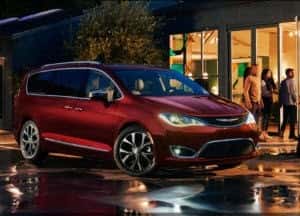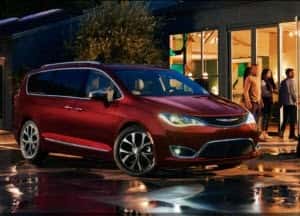 The 2017 Chrysler Pacifica offers impressive technological features that even the biggest fans of tech and gadgets can appreciate. It used to be that minivans were generally excluded from technological advancement, as they are more appropriate for simply picking the kids up from school. However, the technology in the Chrysler Pacifica creates a versatile, progressive vehicle that can serve you well in multiple ways. Learn more from the team at Marino Chrysler Jeep Dodge Ram.
Entertainment Features
If you've ever taken a long trip with children in the back seats, you know how fast they can get bored. A bored child usually makes the Pacifica's quiet cabin irrelevant and comfortable seats are considerably less so when a rowdy child starts kicking. Fortunately, the entertainment available in the 2017 Chrysler Pacifica is abundant. Uconnect Theater allows everyone in the back to enjoy 10.1-inch HD touch screens with Blu-Ray machines, HDMI inputs and preloaded games. Wireless headphones allow rear passengers to enjoy individual things, so there's no arguing over what to watch.
In the front, you can enjoy an 8.4-inch touch screen that you can fully customize. From here, you can access calling, music and navigation, so you can stay in contact and never get lost. For music fans who want to experience studio-quality sound, the Chrysler Pacifica features a Harman Kardon premium sound system with a one-year subscription to SiriusXM Satellite radio.
Chrysler Pacifica Safety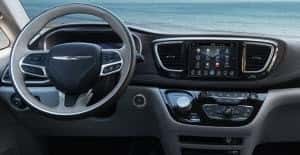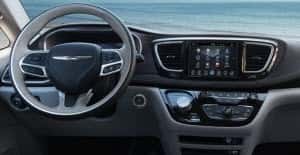 Keeping everyone safe is far more important than keeping them entertained. Luckily, the 2017 Chrysler Pacifica exceeds in both areas. In fact, the Pacifica was the only minivan to earn a 2017 IIHS Top Safety Pick. This is likely because of the 360-degree surround view camera. Using four cameras positioned on all sides of the vehicle, the system creates a full bird's eye view image of the Chrysler Pacifica, allowing you to see what's around you and in all directions.
Driver assistance features, like forward collision warning, go a long way to prevent accidents from happening in the first place. Forward collision warning will alert you if you're approaching something from the front too fast. If you're unable to apply the brakes in time, the Chrysler Pacifica will help you do so.
Chrysler Pacifica Hybrid
Hybrid cars are becoming more prevalent as the years pass, and the Chrysler Pacifica hasn't been left behind. The 2017 Chrysler Pacifica Hybrid represents a huge step forward for minivans and a whole lot of potential benefits for Pacifica drivers. The most obvious plus from any hybrid vehicle is its fuel economy, which is an EPA-estimated 84 mpg for the hybrid Pacifica.
You can drive 33 miles before having to switch to gas after a full charge. Some people who live close to work rarely drive over 33 miles a day. How would you feel if you didn't have to burn gas in your daily commutes? With a total driving range of 566 miles, the Pacifica stands as one of the most impressive hybrids available.
Test Drive the Chrysler Pacifica
Whether you're a fan of the hybrid or the standard Chrysler Pacifica, we at Marino Chrysler Jeep Dodge Ram would love for you to come down and take one for a spin. Experiencing what a vehicle has to offer you is the only real way to understand.
Our dedicated staff will help you find the best Pacifica version right for you. If the Pacifica isn't for you, we're more than happy to show you other vehicles in our expansive inventory. When you're at Marino Chrysler Jeep Dodge Ram, your needs come first. Visit us or contact us online to schedule your test drive. See the amazing technology in the 2017 Chrysler Pacifica today!