2017 Dodge Journey vs Toyota Highlander
One of the best things about an SUV is just how versatile it can be. On one hand, it can make for an excellent family vehicle, with plenty of protection and utility. On the other hand, it can be a powerful off-roading vehicle.
But when Chicago, Skokie, and Park Ridge drivers want the best of both worlds, which should they turn to: the 2017 Dodge Journey or the 2017 Toyota Highlander? In this comparison, the Marino Chrysler Jeep Dodge Ram team will show you.
A Functional Yet Cozy Interior
If you plan on using your SUV as the designated road trip vehicle for your family, then you're going to need plenty of room for cargo. The 2017 Toyota Highlander offers a fair amount of cargo space to begin with at 13.8 cubic feet, but how does this compare to the competition?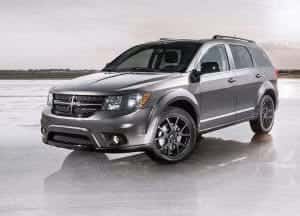 On one hand, the Dodge Journey only includes 10.7 cubic feet of cargo space to start with. However, it adds several more feet with the available smart floor storage system. This system includes in-floor cargo, an in-floor cooler, and even more in-seat storage.
Not only that, but the Journey also comes with available integrated second-row child booster seats. These seats will keep your smallest passengers safe. And when you're finished, you can always fold them away to save room.
2017 Dodge Journey vs 2017 Toyota Highlander: Safety
While tech features can certainly be helpful when it comes to vehicle safety, nothing can compensate for lack of a sturdy structure. And fortunately, the Journey has been built with an incredibly rigid design.
To ensure the SUV stands up to impacts, its body has been reinforced with dual-phase steel and side-impact door beams. Front and rear crumple zones have also been added, allowing the vehicle to both deflect and absorb impacts with ease.
The Toyota Highlander incorporates crumple zones and door beams, too. But without that rigid dual-phase steel, it may not hold up in a collision. Highlander drivers will have to use extra caution on the road.
Sheer Muscle
An SUV is a bigger vehicle, which means it deserves a little extra muscle. The Dodge Journey comes equipped with a 3.6L V6 engine, capable of generating 283 horsepower and 260 lb-ft of torque. With all that brawn, you can easily haul up to 2,500 pounds of additional cargo.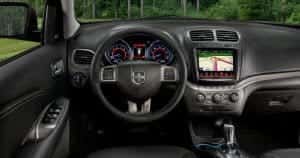 To ensure your car stays on track during these big hauls, the Journey comes with a couple extra stability features. Both Trailer Sway Damping and all-wheel drive (AWD) will work together to keep your SUV on track, no matter the roads.
This is where the Highlander receives its most noticeable downgrade. Equipped with a 4-cylinder engine, the Highlander can only produce 185 horsepower and 184 lb-ft of torque. This decrease cuts down towing capacity to 1,500 pounds. However, without Trailer Sway Damping or AWD, towing wouldn't be advisable.
2017 Dodge Journey vs 2017 Toyota Highlander: Learn More!
When choosing between the 2017 Dodge Journey and the 2017 Toyota Highlander, you're not just choosing between styling. You're choosing between major differences in horsepower, safety, and interior functionality.
Any Chicago, Skokie, or Park Ridge drivers who want to treat themselves to the more versatile option should contact Marino Chrysler Jeep Dodge Ram. We'll teach you everything you need to know about the 2017 Dodge Journey!