Get Your Car Ready for the Chicago Winter
Drivers across the Chicago, Skokie, and Park Ridge areas know that winter is making its way and we all need to prepare for the snow and cold. While some people flock to food stores and supermarkets to stock up on milk, bread, and soup, other people know that one of the most important things to do this time of year is prepping their vehicle for the winter.
Frigid temperatures, ice, and snow can all do a great deal of damage to vehicles and their components. You can take necessary precautions that'll help your vehicle last through this snowy season. We're here to help you learn about the different ways you can get your car ready for the winter.

Preventative Maintenance
No matter the weather or time of year, you should always keep up with regular maintenance. To prepare for the winter, scheduling service is a good idea. Certified technicians will check all your engine components and vehicle systems to make sure they're functioning properly. Make sure you have fresh oil in your vehicle, as well as some washer fluid, because you'll be using that a great deal when you're on the road.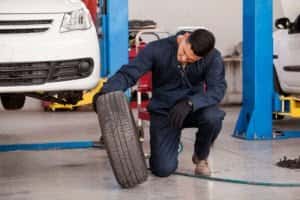 Check Your Tires
Your tires are vulnerable to extreme temperatures. When the air gets particularly cold, it can cause tires to lose pressure. It can even result in the rubber hardening. When it comes to getting around on snowy roads, be mindful of your tire pressure by checking it frequently. If you want to be prepared for the cold and slick roads, you may want to get winter tires. These tires are designed with deeper treads to allow them to grip the roads more efficiently when there's a great deal of snow to get through.
Inspect Your Battery
Much like your tires, your battery is also susceptible to cold temperatures. Be sure to check your battery to make sure it's up to specification. If you notice any corrosion or wear on the connections, you may want to spring for a new battery. If you don't, your vehicle may not start, leaving you stuck in the snow.
Pack an Emergency Kit
There's nothing wrong with being prepared for every possible outcome when it comes to winter driving. A good idea is to pack an emergency kit, which would be very helpful if you ever got stuck. Think about packing a shovel to help dig your vehicle out if it gets stuck in a snow bank. Other items you should include in your emergency pack are a flashlight, wiper fluid, clothes, water, gloves, and a first-aid kit. You might want to bring a bag of sand or kitty litter, which can help your tire regain traction if your vehicle gets stuck in the snow.
Schedule Service at Marino CJDR
In this article, we showed you different ways to get your vehicle ready for the snow. If you follow our advice, you'll be less likely to get stranded out on the snowy roads. You'll be glad you took the necessary precautions.
Do you need to get your car ready for winter? Schedule service with us at Marino Chrysler Jeep Dodge Ram. We're always happy to help drivers from the South Chicago, Skokie, and Forest Park areas.