Grand Wagoneer Technology

The Grand Wagoneer has state-of-the-art technology to get you safely and smartly around Chicago, Skokie, Park Ridge, or Forest Park, IL—and Marino Chrysler Jeep Dodge Ram is here to help you experience this outstanding vehicle. Partnerships have been made with leading experts in cutting-edge vehicle technology with your safety and comfort in mind.
Please read below for more details on how the Grand Wagoneer's technology makes it one of the best options for premium SUV buyers.
Safety and Tech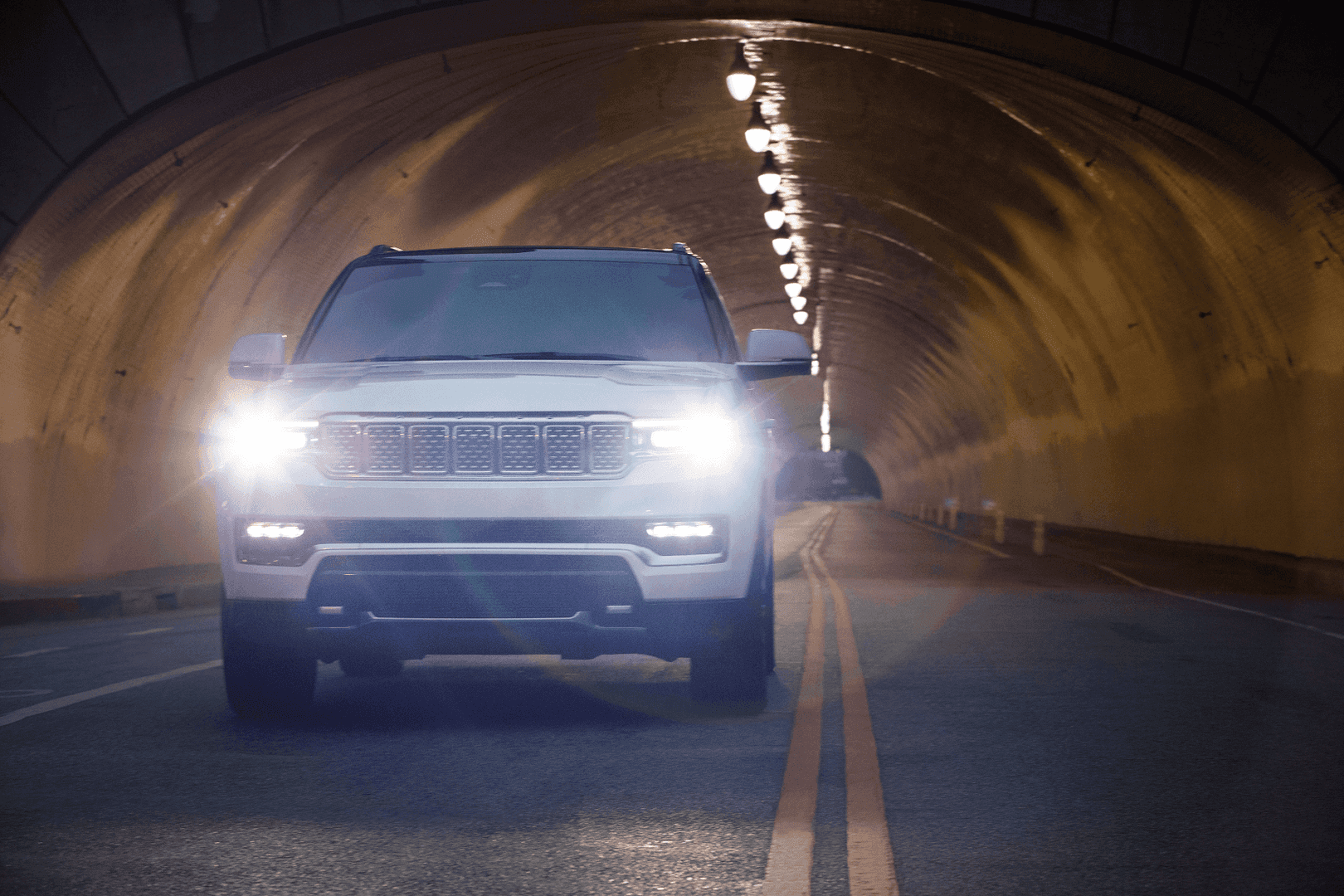 You and your family will feel confident and comfortable whenever you take out the Grand Wagoneer. Utilizing high-tech to enhance its safety standards further, this SUV can adapt to many road and weather conditions. For instance, it has five terrain settings: auto, sport, rock, snow, and mud/sand.
Several technology components anticipate any trouble before it can hit you. These added safety components include Traffic Sign Recognition, Pedestrian and Cyclist Emergency Braking, Active Lange Management (to prevent you from drifting out of your lane), and more. Even the rearview mirror is digital. All these devices use a highly technological system of sensors and alerts to keep you as safe as possible both on the road and off-roading.
Display and Entertainment Tech
Notably, the Grand Wagoneer has head-up displays for the front row: a dash cluster, a 12-inch infotainment screen, and a 10.3-inch climate and seat control touchscreen. The Uconnect® 5 program allows for up to five user profiles. It provides services like traffic updates, destination prediction, range mapping (giving information on when to fuel, for instance), dual phone connectivity for Bluetooth® phones, and other capabilities. It can also run Alexa, Android Auto™, and Apple CarPlay®.
The passenger screen has navigation and Amazon Fire TV abilities, making for an excellent co-pilot position. Lastly, the backseat passengers are afforded 10.3-inch displays that includes HDMI ports, personal climate control, Amazon Fire TV, Android Auto™, and Apple CarPlay®. If you opt for all seven screens, they'll total an impressive 75 inches of total display space.
Extra Technology Features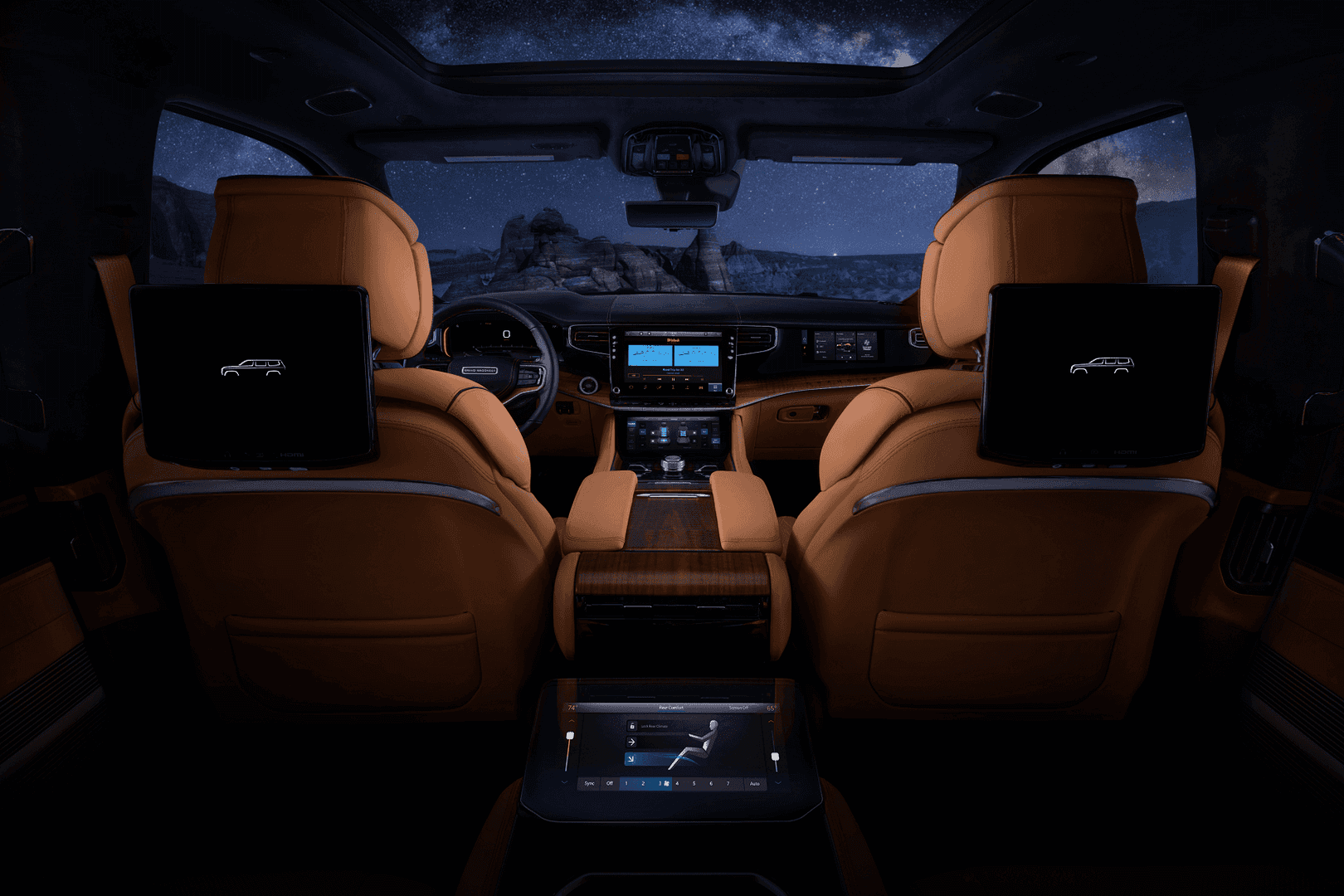 Technology has been used to enhance the Grand Wagoneer experience—outside of safety, display abilities, and infotainment—even further. These include the available audio system, LED lighting, and the eTorque hybrid system.
Top-of-the-line audio company McIntosh® designed an exclusive system for the Grand Wagoneer. Audiophiles will delight in being able to bring the concert to their car. This system features a 1375-watt amplifier, 23 high-definition speakers, 3D surround sound, and a 12-inch subwoofer—all created by the masterminds at McIntosh and exclusive to this premium SUV.
For added ambiance, the interior LED lighting is customizable to your sensory preferences. In select trims, this includes five colors from which you can choose. The eTorque ability, last but not least, boasts an impressive 48-volt electric motor to run the entire electrical system. It also works to improve overall power and fuel economy.
Put the Wagoneer Technology to the Test!
If you are in the Illinois areas of Chicago, Skokie, Park Ridge, or Forest Park, our team at Marino CJDR can help you learn more about the Grand Wagoneer's extensive, intuitive technologies.
Contact our dealership to learn more!