2017 Jeep Compass vs Nissan Rogue
When you picture the ideal crossover vehicle, what do you imagine? Superior comfort and high power? Perhaps some towing and off-road capability? At Marino Chrysler Jeep Dodge Ram (CJDR), we believe the right SUV should include a blend of both.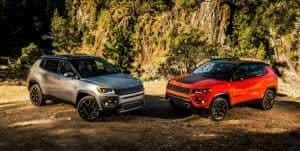 When Chicago, Skokie, and Park Ridge area drivers are looking for a versatile SUV, they can either turn to the 2017 Jeep Compass or the 2017 Nissan Rogue. In this comparison, we'll show you which is the more satisfying choice.
Jeep Towing & Off-Road Abilities
Over the years, Jeep has made a name for itself by designing some of the best off-road vehicles on the market. And while the 2017 Jeep Compass was also made for comfort, it still contains many great off-roading features, such as the Selec-Terrain® system.
When Selec-Terrain® pairs with a rigid all-wheel drive suspension, the Compass can handle almost any road surface safely. And with additional Trailer Sway Damping, that holds true even while you're towing up to 2,000 pounds of cargo!
The 2017 Nissan Rogue was clearly not designed for this same purpose. For starters, its towing capacity is only half of what the competition can handle, and it also lacks the capable Selec-Terrain® system. Off-road, there's no guarantee the Rogue will stay on course.
2017 Jeep Compass vs 2017 Nissan Rogue: Performance Specs
The Nissan Rogue attempts to compensate for its lack of off-road and towing capabilities by offering a powerful engine. Its 2.5L 4-cylinder can generate up to 170 horsepower, but exactly how does this stack up to the Compass?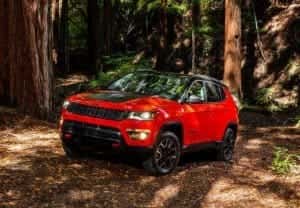 Once again, the competition is able to produce just a bit more power at 172 horsepower. This is due in large part to its available 2.4L MultiAir inline 4-cylinder. This engine is outfitted with the stop-start feature, which is proven to increase efficiency.
The Compass also comes with a useful speed control feature. This added control will really come in handy when navigating more daring terrain, as it can help you corner more safely.
Interior Comforts
When it comes to comfort, space is the bottom line. Both the Compass and the Rogue aim to offer plenty of room. And while the Rogue does offer a fair amount of volume at 105.8 cubic feet, it just can't compare to the 126.7 cubic feet found in the Compass.
The interior of the Jeep Compass features a few more conveniences that can't be found in the competition. For instance, easy push-button start comes standard, as does a robust 6-speaker audio system.
The audio system in the Rogue is downgraded to four speakers, and it unfortunately lacks push-button start. It seems that throughout the SUV, cutting corners in terms of convenience is a running theme.
2017 Jeep Compass vs 2017 Nissan Rogue: More Is Better
When it comes to your vehicle, more is always better. You want more space, more power, and more handling abilities. In this regard, the 2017 Jeep Compass clearly trounces the 2017 Nissan Rogue.
Drivers in the Chicago, Skokie, and Park Ridge areas who'd like to learn more about the Compass should contact our team at Marino CJDR. We can run you through the rest of its impressive specs. Contact us today for more information!