2017 Jeep Compass vs Subaru Crosstrek
If you love the outdoors, then there's no better season than summer. The warmer weather and sunshine makes way for road trips, camping, and off-road fun. But in order to really dig your heels into any of this, you'll need a vehicle as capable as you are.
When Chicago, Skokie, and Park Ridge drivers start looking for their next SUV, both the 2017 Jeep Compass and the 2017 Subaru Crosstrek may seem like great options. But in this review, the Marino Chrysler Jeep Dodge Ram team will show you that only one has the performance and comfort you need.
2017 Jeep Compass vs Subaru Crosstrek: Performance Specs
Over time, an SUV can take a lot of wear, particularly if you're frequently using it for more adventurous excursions. To avoid problems, your vehicle is going to need to be built with some pretty rugged technology.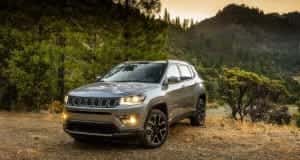 The engine in the 2017 Jeep Compass was made just for this purpose. Capable of producing up to 180 horsepower and 175 lb-ft of torque, the 2.4L inline 4-cylinder MultiAir was absolutely made to last. Pair it with the available 9-speed automatic transmission, and you'll have high performance for years to come.
The powertrain is the 2017 Subaru Crosstrek unfortunately receives a bit of a downgrade. With a smaller 2.0L 4-cylinder, the SUV is only capable of producing 148 horsepower and 145 lb-ft of torque. And with a 5-speed manual transmission, things are bound to be less smooth.
Time to Go Off Road
When you've got a powerful engine, you can only hope that the vehicle has precise handling to back it up. The Crosstrek comes equipped with some standard features like stability control and traction, as well as all-wheel drive (AWD). But how does this compare to the competition?
The Compass, like any Jeep vehicle, was made to go off road. It sees that Subaru stability and traction and ups the ante with additional features like Trailer Sway Damping and the Selec-Terrain® system.
The main advantage of Selec-Terrain® is that it allows you to alter your traction according to specific conditions. This little enhancement greatly bolsters the already effective drivetrain, keeping you stable when driving on snow, rain, or rocky roads.
2017 Jeep Compass vs 2017 Subaru Crosstrek: Interior Space
Fitting your whole family and all your luggage and gear into one vehicle can be a real challenge (as well as a potential source of complaints). The more room you have, the better.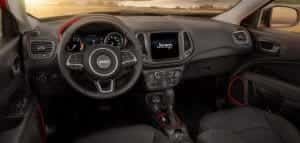 The Subaru Crosstrek is a smaller crossover. Offering passengers 97.5 cubic feet of room, it offers less space than even some midsize sedans. The 22.3 cubic feet of cargo space is a bit of an improvement, at least, but it does make for a more compact setup.
With the Jeep Compass, you'll have more room to breathe. Overall, 126.7 cubic feet are available for passengers. And with an additional 27.2 cubic feet for cargo, you shouldn't have to worry about feeling cramped at any time.
You Need Room to Explore
A thirst for exploration is simply human nature. Maybe you should do yourself a favor and find a vehicle that can support this instinct.
The 2017 Subaru Crosstrek is a fairly comfortable car for your everyday driving, but it lacks the versatility of the 2017 Jeep Compass.
Any Chicago, Skokie, or Park Ridge customers who'd like to experience this vehicle for themselves should contact Marino Chrysler Jeep Dodge Ram. We'll gladly help you get behind the wheel of a Jeep Compass. Contact us today to schedule your test drive!