Jeep Renegade MPG
With six different Jeep Renegade models available and multiple engines to choose from, this off-roading gem is a favorite of Chicago, Skokie, and Park Ridge. This subcompact Jeep SUV traverses Forest Park well, whether you're on pavement or on an adventure into the wilderness.
When buying or leasing a vehicle, something every driver always considers is miles per gallon. How often will you have to go to the pump when driving this vehicle? Find out in this Marino Chrysler Jeep Dodge Ram review of Jeep Renegade MPG, as we begin by taking a closer look at engine performance.
Jeep Renegade Performance
The Renegade can be driven with one of two engines. Both provide the performance long-time Jeep drivers know all about. But if you're not familiar with the Jeep brand, let's take a closer look at these two engines.
The standard 1.4-liter MultiAir® turbo engine works to vary the volume of air taken in by the engine, which results in strong performance and pulling power. This is standard on the Sport and Latitude models, and produces 160-horsepower and 184 lb-ft of torque. The other engine option is the 2.4-liter Tigershark MultiAir® 2. This features the same MultiAir® technology for power and torque, and is standard on Limited and Trailhawk models, paired with a 9-speed automatic transmission.
The 2018 Renegade is versatile, too. It can tow up to 2,000 pounds with the 2.4-liter engine, which means a weekend adventure can include your favorite small watercraft.
Jeep Renegade Fuel Economy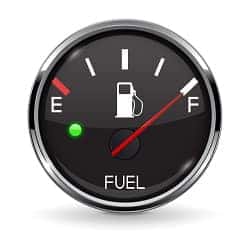 And now, to the all-important fuel economy numbers. Keep in mind that the Renegade can be driven in either a 4×2 or 4×4 setup. The two-wheel drive Renegade has four wheels, but only two wheels are driven at a time. The 4×4 means all four wheels are driven at the same time, for better traction and grip. As you might expect, this can impact Jeep Renegade MPG.
Here is what to expect out of this SUV when it comes to fuel economy.
4×2 Jeep Renegade
1.4-liter turbo engine: 24 MPG city/31 MPG highway
2.4-liter engine: 22 MPG city/30 MPG highway
4×4 Jeep Renegade
1.4-liter turbo engine: 24 MPG city/31 MPG highway
2.4-liter engine: 21 MPG city/29 MPG highway
Comprehensive Jeep Service
We're here to take care of your car. Long after you've left our lot for the first time, our Jeep service technicians are there to perform oil changes, tire rotations, and other automotive services. These check-ups can keep vehicle performance steady. If you don't have the oil changed and tires rotated regularly, for example, it can have a negative impact on fuel economy as the vehicle works harder.
Schedule a service appointment with our service technicians today. We'll take a look at your vehicle and perform any necessary maintenance and repair, using genuine parts for your Renegade as needed.
Jeep Renegade: A Fuel-Friendly SUV
Take on the roads of Chicago and Skokie or the trails of Park Ridge and Forest Park. No matter where you're going, you'll be backed by the Jeep Renegade, known for its performance both on-pavement and off.
This is a fuel-efficient SUV designed for the 21st century. Come see it today at Marino Chrysler Jeep Dodge Ram.