Jeep Wrangler JL Lease Deals Chicago IL

This car comes in a variety of styles. You can get a two- or four-door body style. All styles come with a 3.6L V6 engine with 285 horsepower and part-time four-wheel drive, making this vehicle ready for whatever off-road adventure you can think of.
You can seat four adults comfortably in the Wrangler JL. With an available two-zone climate control system in the front, 41.2 inches of legroom, and 46.2 inches of headroom, the Jeep provides a rugged, yet comfortable, interior. Rear passengers get 35.7 inches of legroom and 41.7 inches of headroom.
You expect a Jeep Wrangler to be a rugged outdoor-centered vehicle, but that doesn't mean it can't come with excellent audio and infotainment options. This car comes with Chrysler's Uconnect® system and a standard 5-inch touchscreen display. There are USB ports, as well as USB-C ports standard. Smartphone integration and Bluetooth® are available in an optional Technology package.
A Jeep Wrangler Lease Makes Sense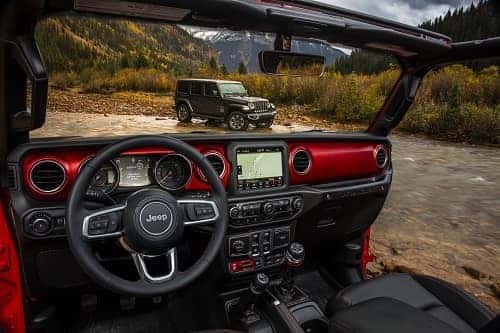 Imagine if you could drive a new Wrangler JL with an affordable payment plan and the flexibility to upgrade to a newer model-year after only two or three years of driving. Sounds too good to be true, doesn't it?  Well, it's not if you sign a lease agreement on a new vehicle.
More and more people are turning to leasing to make a new car feasible. With a lease agreement, you only pay for the car during the time you actually drive it. Since you're not responsible for paying off the entire value of the car, your payments are lower.
What's even more exciting is that after you've taken your Jeep Wrangler JL on all kinds of off-road adventures, you can upgrade at the end of your contract term to a brand-new model simply by signing another lease. That's right: a brand-new vehicle with upgraded features and technology can be yours!
A Great Dealership in Chicago IL
If you're in the Chicago, IL, area, there is a dealership that not only has a huge inventory of Jeep Wrangler JL models, but also a knowledgeable sales staff and a dedicated finance team. Marino Chrysler Jeep Dodge Ram has been serving customers for many years and we know how to find just the right vehicle to meet your needs.
Whether you're looking for a classic Jeep Wrangler JL or another fine Jeep vehicle, our sales staff can help. We pride ourselves in finding options that fit your lifestyle, be it a vehicle for a daily commute to work or one that can hang tough with your weekend outdoor adventures.
Once you've selected your vehicle, our finance experts can help put together a lease agreement that meets any budget or financial circumstances. You'll love the affordability and flexibility found in our lease deals. Of course, we'll also be glad to discuss purchase options, if you choose to go that route.
Come down to Marino Chrysler Jeep Dodge Ram and check out the Jeep Wrangler JL today. We know you'll love this car as much as we do!