Jeep Wrangler Maintenance Schedule
Going on a new adventure in the Jeep Wrangler is an extraordinary experience. With its all-weather capability, removable top, and removable doors, the Wrangler has long been a favorite of adventure-seeking drivers. From trips to Chicago and Skokie to drives in Park Ridge and Forest Park, the Wrangler impresses its drivers in many ways.
It's important to take care of this car as time goes on. Our Jeep Wrangler maintenance schedule gives you an idea of what services need to be performed and when you should have that next maintenance completed here at Marino CDJR.
Jeep Wrangler Oil Change
Let's start by talking a bit about oil changes. Your oil is what lubricates the engine and helps ensure the Wrangler runs smoothly. This car is equipped with an automatic oil change system, which lets you know when an oil change is needed. This helpful feature completely eliminates any guesswork about oil changes.
Typically, the oil will last around 10,000 miles, though that may be adjusted depending on how the car is driven. For instance, if your Wrangler often heads off the pavement or is used for towing, the oil change light could come much earlier. Never exceed 12 months or 10,000 miles without an oil change. We'll reset the indicator light, change the oil, and perform any other necessary maintenance when your car is here.
Other necessary maintenance includes:
Tire rotation
Battery inspection
Brake inspection
Exhaust system check
2 Years/20,000 Miles
After you've driven the Wrangler for two years, the brake linings and parking brake function receive a checkup. The parking brake needs to be fully operational, and your brakes should be ready for the road and prepared for any situation requiring you to slow down and stop.
We'll also replace the cabin air filter at this point. This filter keeps dust and pollen out of the cabin, so it's easier to breathe when using the air conditioning or heat.
We'll inspect the front suspension, too, along with the front and rear axle fluid. This fluid lubricates the axles and keeps components at the proper temperature while driving.
3 Years/30,000 Miles
There's another filter that needs to be changed after 30,000 miles of driving: the engine air filter. This part keeps pollutants from the road, including dirt and dust, from reaching the engine. If it's also time for your oil change, we'll take care of that, too.
10 Years/100,000 Miles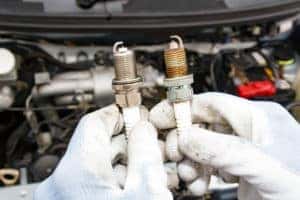 We're looking far into the future with this one, but it's helpful to know that this is typically the time to replace the spark plugs. These have one job: ensure the engine is able to start and run properly. If you've felt the engine misfire or it's turning over a few times before it finally starts, that chugging sound can be due to faulty spark plugs.
When the spark plugs wear down, it can cause the battery to work harder, too. If the spark plugs are being replaced, we'll test the battery to ensure it still has some juice.
Comprehensive Jeep Wrangler Service
At Marino CDJR, we want to make sure you're able to take on the roads of Chicago and Skokie whenever you want. To ensure your Jeep Wrangler is getting the care it deserves, schedule service with our experienced Forest Park and Park Ridge service technicians today.
We hope this Jeep Wrangler maintenance schedule helps you narrow down when to schedule service. Have any questions for our team? Reach out to us today!