2017 Jeep Wrangler vs Toyota 4Runner
If you plan on taking your SUV on any off-road adventures, or brave the elements during the harsh winter months in Chicago, Skokie, and Park Ridge, then you'll need an exceptionally safe and capable vehicle.
In terms of amenities and handling, the 2017 Jeep Wrangler and 2017 Toyota 4Runner offer two very different packages. To help you determine which best fits your needs, our team at Marino Chrysler Jeep Dodge Ram (CJDR) has put together this helpful comparison.
Off-Road Capability
When it comes to your SUV, off-road adventure starts with a capable drivetrain. The 2017 Jeep Wrangler comes with Command-Trac® shift-on-the-fly part-time 4-wheel drive (4WD). This system offers precise handling, no matter how loose or slippery the terrain may be.
For added control, the Wrangler includes front and rear stabilizer bars, as well as a host of other off-road features. This includes the available transfer case and fuel tank skid plates, which can deflect any debris your vehicle may kick up.
The 2017 Toyota 4Runner, though a larger vehicle, is clearly thinking more of comfort than capability. It lacks 4WD, instead opting for the less effective rear-wheel drive. Several of the off-road features found in the competition are also missing from it.
Exceptional Cargo Space
Whether you're hitting the road for a camping trip upstate or just running day-to-day errands, you'll need plenty of cargo space in your car. The Toyota 4Runner, striving to be more of a family vehicle, offers minimal cargo space at only 9.0 cubic feet behind the back row.
The Wrangler has 12.8 cubic feet behind the second row, as well as rear covered storage and a cargo tray. Use the available tie-down loops to secure your gear for a safe and functional trip.
2017 Jeep Wrangler vs 2017 Toyota 4Runner: Performance
Beyond handling features, a vehicle needs an engine with plenty of brawn to handle more adventure. Installed in the Wrangler is a 3.6L 6-cylinder engine that can achieve a whopping 285 horsepower.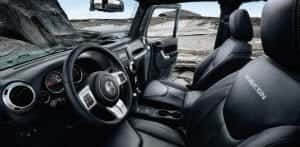 To manage all that speed on more hazardous terrain, the Wrangler is built with 4-wheel disc brakes and a powerful hydraulic assist brake booster. When these features are paired together, drivers are offered ultimate stopping power.
The 4Runner comes with a larger 4.0L 6-cylinder engine. But somehow, its horsepower manages to fall short of the Wrangler at only 270. And unfortunately, it lacks the advanced brake booster that has enhanced the safety of its competitor.
Ready to Put Them to the Test?
When it comes to navigating hazardous roads, there are few vehicles more capable than the 2017 Jeep Wrangler. With its powerful drivetrain and excellent amenities, it truly makes the 2017 Toyota 4Runner pale in comparison.
Drivers in the Chicago, Skokie, and Park Ridge areas don't have to take our word for it. Test the Wrangler for yourself. Contact our team at Marino CJDR, and we'll explain how. Schedule your test drive today.