Test Drive Checklist: Download Today!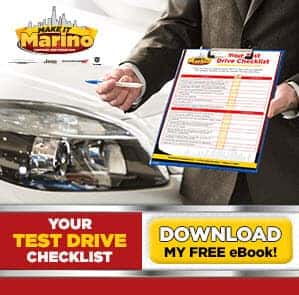 If you've been searching for a new car that will take you on the roads of Chicago, Skokie, Park Ridge, and Forest Park, it's best to do some research on the vehicles you're considering. After looking at important specs and features, there's a good chance you'll want to test drive the car you're interested in.
A test drive lets you experience the car for yourself. You get to see how it performs on the roadways, what the interior looks like, and the chance to check out things like trunk space and all the little details that get you excited about buying a car. The team at Marino Chrysler Jeep Dodge Ram has put together this test drive checklist to give you an idea of what to look for during a test drive.
This checklist features the important questions you should be asking yourself and the things you should be thinking about before, during and after the test drive.
Ready to find your next car? It all starts with a test drive. Fill out your information on this page to access our FREE test drive checklist.