Transmission Repair near Me
The transmission is one of the most important parts in your car. So, when it's damaged or malfunctioning, you need to make sure you schedule a transmission repair near Chicago, Skokie, Park Ridge, and Forest Park to keep your car running as smoothly as possible.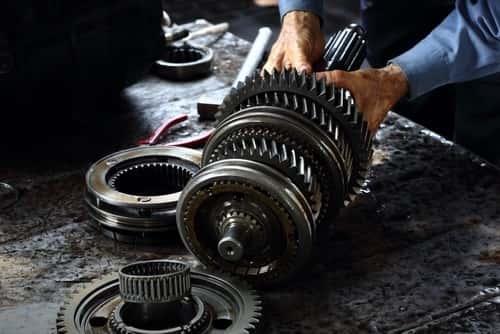 If you've been asking yourself "when should I schedule a transmission repair near me," the team at Marino Chrysler Jeep Dodge Ram is here to help. Just check out our guide below to learn more about your transmission and when you need to schedule its next service and repair.
Resources:
Transmission Repair near Chicago IL
Everyone knows the transmission is a crucial part to the vehicle's operation, but what exactly is it responsible for?
The main purpose of the transmission is to shift the car between gears at different speeds. The transmission is also responsible for sending power from the engine to the wheels. This enhances traction and improves overall handling and control when you're behind the wheel.
But like all automotive parts, service and repairs for your transmission are necessary to keep it running smoothly for years to come.

Signs You Need Your Transmission Repaired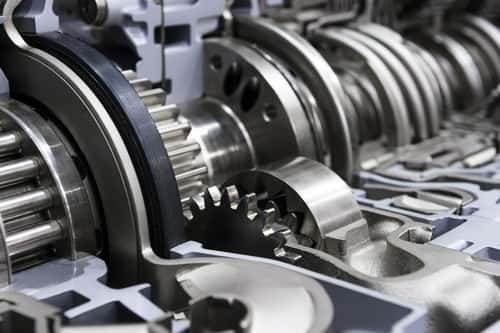 If you follow your vehicle's maintenance schedule, your transmission can live a long and healthy life. But it's still important to understand a few common transmission warning signs.
Warning signs are typically the first thing that'll indicate that the part is malfunctioning. To give you an idea of what you should be looking out for when you're driving, here are a few common transmission warning signs that you may experience:
Car shakes or emits grinding noises when shifting
Delayed movement after shifting gears
Active transmission or check engine warning light
Leaking transmission fluid
To keep your vehicle operating smoothly and safely, you'll need to schedule a repair as soon as these warning signs start to arise.
Schedule Transmission Repair with Marino Today
The transmission is one of the most important parts in your entire car. So, let us help you keep it running well by scheduling your next transmission repair at Marino Chrysler Jeep Dodge Ram!
Don't wait. If you're noticing a few of the warning signs listed above as you're traveling through Chicago, Skokie, Park Ridge, and Forest Park, contact us and schedule your transmission repair now.

Always great customer service. The people there make you feel like your family. I have bought all my cars from Marino's Jeep. Thanks guys for the beat service ever
VIA DealerRater
Aug 6, 2020
Shout out to Felix Nieves the best car salesman ever great customer service help me get my new 2020 Blacktop RT charger thank you guys
VIA DealerRater
Aug 6, 2020
All of the stress about being pressured into buying a car was instantly lifted the second I walked into the dealership. Salesmen and managers at the front desk were eager to help me and guide me to what I was looking for. I came prepared with a list of what I wanted and Parker and Roberto were quick to show me all of the options available. They were curious as to why I wanted certain packages and helped me knock off a few things that I did not need which was a pleasant surprise. After only ONE HOUR they had ...
VIA DealerRater
Aug 6, 2020
Jose greeted us asked what the problem was asked if we needed anything else done and if we wanted a loaner and said the car would be done at 1:00 and it was Jose was very professional
VIA DealerRater
Aug 5, 2020
My experience was exciting and rewarding. From time I walked through the door, and noticing the luxury looks of the show room. I was treated royally by all staff.
VIA DealerRater
Aug 5, 2020
I have been struggling with dealing with dealerships for quite sometime now. When I bought my car I had a very bad experience with a different dealership and when returning to the dealer to try to get my car serviced, I was greeted with the bad experiences and attitude I was originally met with when buying the car. This made my view of dealerships very clouded and skeptical but when I brought my car to Marino's, I was pleasantly surprised. I am very happy with the outcome. Carlos is the one that helped me through the whole process. He ...
I had the best experience in my car buying process at this dealership with Manny. He greeted me immediately and inquired about my needs. He gave me honest input about what models he thought would be best based on what I was looking for. Deterred me away from what wouldn't be a fit and surprised me with options I never thought of but loved. He was helpful without being pushy and I felt I could trust him. He was a pleasure to work with and really knows his stuff having worked at multiple dealerships and even being a mechanic. I ...
VIA DealerRater
Aug 5, 2020
Jonathan Albarca no pressure experience and knew his stuff. Felt like family and had a top notch service. I recommend their sales expertise. Buy a Jeep here you won't regret it! Thank you Marino Jeep
VIA DealerRater
Aug 4, 2020