Why Choose OEM Parts?

When you visit a service center or auto repair shop, it's important to know what you're getting into when it comes to replacement parts. If you're driving the roads of Chicago and Skokie, you deserve parts that are the perfect fit for your vehicle.
Why choose original equipment manufacturer parts? There are many reasons Park Ridge and Forest Park motorists should have OEM parts installed. Marino Chrysler Jeep Dodge Ram is the place to go to find that perfect fit for your car.
Aftermarket Parts
When you bring your vehicle to our location, you'll know you're getting original equipment manufacturer parts. Take your car to an independent repair shop, and you might be choosing between aftermarket parts that aren't the just-right fit for your car.
An aftermarket part is not from the manufacturer. While these will typically be a bit cheaper than an OEM part, the quality can vary from part to part. You may have to live with a lower-quality material. For instance, they may not provide the rustproofing protection that an OEM part would have.
There's a chance the part ends up not fitting, too, which can be frustrating if you head right back to the repair shop and take more time out of your day to correct something that should have been done right the first time.
Aftermarket selection can take time, too. There may be dozens of variations of a part. You may not want to sift through the various options to find the right one.
Benefits of Installing OEM Parts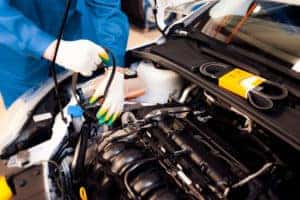 With an OEM part, you know you're getting the highest quality fit. The part is the same one that was originally intended for your car. It will function exactly like it's supposed to, ensuring the best possible performance in the process.
When you visit the parts counter at our dealership and ask for a part, you don't have to look at different brands and compare prices, ultimately taking a guess at which part will work with your car. Instead, you'll be able to rest assured knowing the original equipment manufacturer part has been installed.
Schedule Your Next Service Appointment Today
Whether a light has turned on in your dashboard that requires service, or it's time for your regular maintenance visit, our knowledgeable service technicians are here to help. We'll handle that oil change, tire rotation, battery replacement, or brake inspection. Our goal is to provide a solution and return you (and your car) to the road as soon as possible.
If a new part is required, it'll be an OEM part. Schedule a service visit on our website today. We'll be in touch to confirm the appointment.
Choose OEM Parts for Your Car
As you've had a chance to see, original equipment manufacturer parts are the best fit for your car in Chicago and Skokie. At Marino Chrysler Jeep Dodge Ram, our service technicians head to the parts center with confidence each day, knowing they'll find the right fit for your vehicle.
Schedule a service appointment and stop by from Park Ridge or Forest Park. We'll be sure to get you back on the road soon.