Brake Repair near Me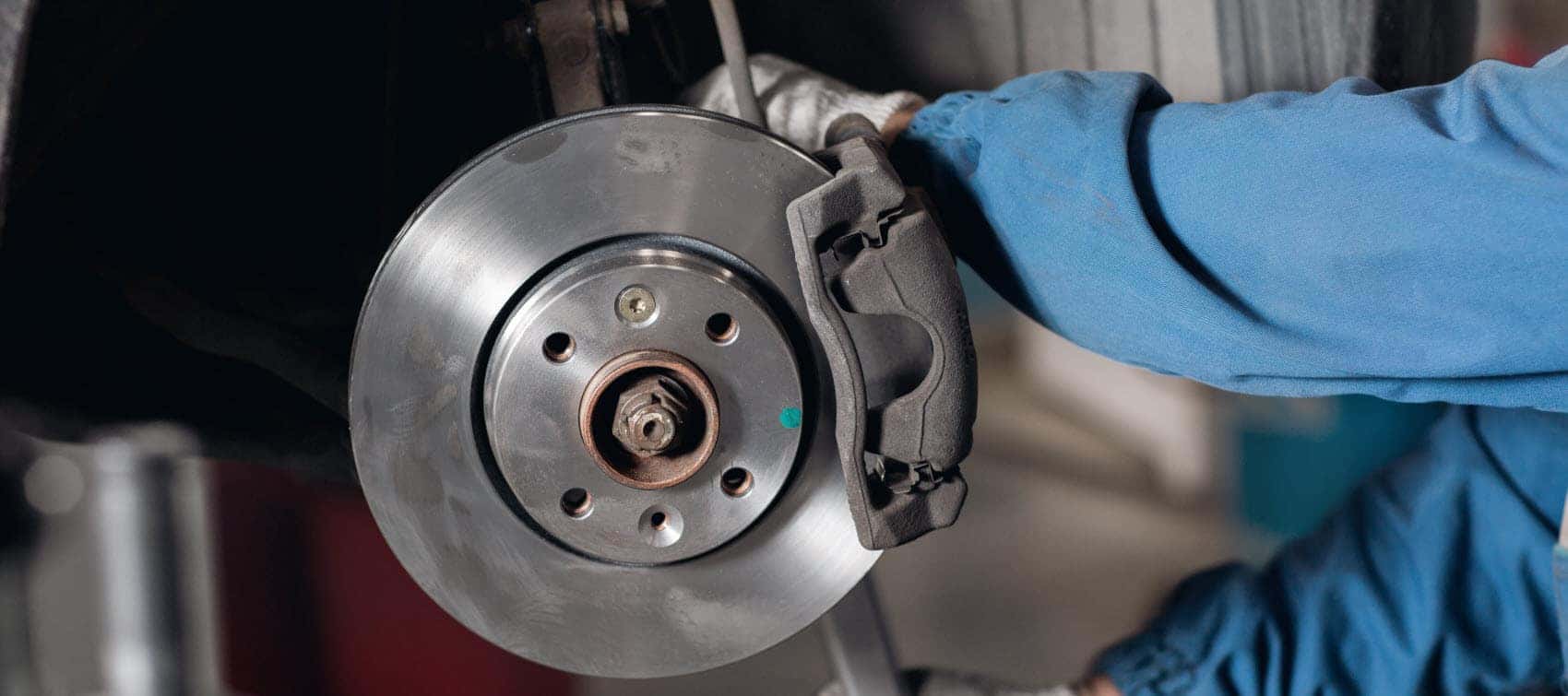 Your brakes are an important part of your vehicle's safety. Because of this, it's absolutely vital that you get into the nearest service center when you're in need of a brake repair or replacement.
At Marino Chrysler Jeep Dodge Ram, we want our local customers from Chicago, Skokie and Park Ridge to be safe on the roads. That is why we offer comprehensive brake service and repair at our nearby service center.
Resources:
Do You Need New Brakes?
Your brakes should be part of your regularly-scheduled maintenance, but they also give you warning signs when something is amiss. If you hear sounds like grinding, whistling, squealing or anything else unusual, it may mean that you're in need of a brake repair or replacement.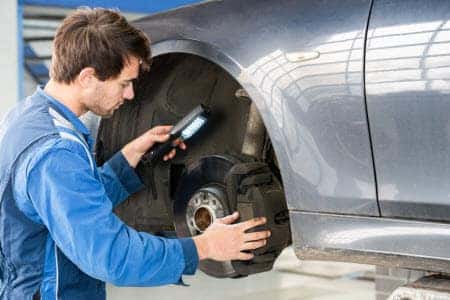 Here are the common causes of these sounds:
Worn brake pads/discs
Cracked or worn brake rotors
Loose brake pads
Uneven torque in caliper hardware or lug nuts
In addition, your brakes come with a small strip of metal attached to the brake pad. This serves as an indicator that your pad is getting worn and needs replacement. When your pads become worn, this strip will alert you with a chirping sound.
Normal Brake Wear
There are several components to your braking system, all of which wear down at different rates. Each of these individual components should be replaced or repaired as part of your routine vehicle maintenance, but there are specific signs to look out for with each.
Brake Caliper
This is a hydraulic clamp that holds the brake pad onto the brake rotor.
Here are some indicators of wear:
Locking brakes
Pulling to either direction when braking
Inadequate brake force
Pulsing in the pedal
Additional stopping distance
Leaking fluid
A Spongy feeling in the brake pedal
Brake Pads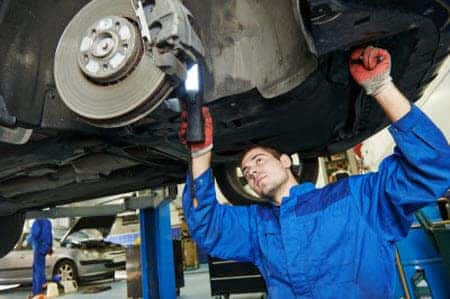 These are flat pads that lay against the rotor and cause friction that slows and stops your vehicle.
Here are some indicators of wear:
Squealing, grinding, or chirping
Inadequate stopping power
A brake pedal that's low to the floor
Brake Rotors
These are rotating discs that slow and stop your vehicle when the brake pads create friction.
Here are some indicators of wear:
Pulsing pedal
Grinding or squealing
A brake pedal that's low to the floor
Pulling in either direction when braking
Brake Shoes
These are used with rear brakes and create friction on the inside of the brake drum to slow or stop your vehicle.
Here are some indicators of wear:
Inadequate stopping power
Pulsing pedal
Additional stopping distance
A pedal that's low to the floor
Unusual sounds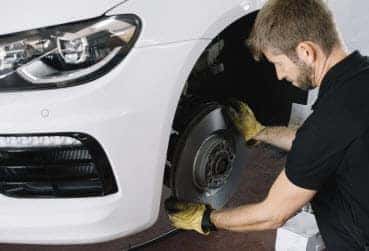 Brake Hose
This transports brake fluid from your solid-steel brake lines to the wheel cylinder or caliper. These hoses are flexible and allow the other components to move freely.
Here are some indicators of wear:
Spongy pedal
Visible tears or cracks in the line
Leaking fluid
Pulling in either direction when braking
Schedule Your Brake Repair at Marino Chrysler Jeep Dodge Ram
Now that you're familiar with some of the common signs of wear for your braking components, you'll have a better idea of when you need to head to a service center for a brake repair.
If you're in Chicago, Skokie or Park Ridge and need brake repair or service, visit the service center at Marino Chrysler Jeep Dodge Ram. We provide comprehensive brake repair for local drivers near these areas, so don't hesitate to stop by and schedule your brake repair. Contact us today!
Always great customer service. The people there make you feel like your family. I have bought all my cars from Marino's Jeep. Thanks guys for the beat service ever
VIA DealerRater
Aug 6, 2020
Shout out to Felix Nieves the best car salesman ever great customer service help me get my new 2020 Blacktop RT charger thank you guys
VIA DealerRater
Aug 6, 2020
All of the stress about being pressured into buying a car was instantly lifted the second I walked into the dealership. Salesmen and managers at the front desk were eager to help me and guide me to what I was looking for. I came prepared with a list of what I wanted and Parker and Roberto were quick to show me all of the options available. They were curious as to why I wanted certain packages and helped me knock off a few things that I did not need which was a pleasant surprise. After only ONE HOUR they had ...
VIA DealerRater
Aug 6, 2020
Jose greeted us asked what the problem was asked if we needed anything else done and if we wanted a loaner and said the car would be done at 1:00 and it was Jose was very professional
VIA DealerRater
Aug 5, 2020
My experience was exciting and rewarding. From time I walked through the door, and noticing the luxury looks of the show room. I was treated royally by all staff.
VIA DealerRater
Aug 5, 2020
I have been struggling with dealing with dealerships for quite sometime now. When I bought my car I had a very bad experience with a different dealership and when returning to the dealer to try to get my car serviced, I was greeted with the bad experiences and attitude I was originally met with when buying the car. This made my view of dealerships very clouded and skeptical but when I brought my car to Marino's, I was pleasantly surprised. I am very happy with the outcome. Carlos is the one that helped me through the whole process. He ...
I had the best experience in my car buying process at this dealership with Manny. He greeted me immediately and inquired about my needs. He gave me honest input about what models he thought would be best based on what I was looking for. Deterred me away from what wouldn't be a fit and surprised me with options I never thought of but loved. He was helpful without being pushy and I felt I could trust him. He was a pleasure to work with and really knows his stuff having worked at multiple dealerships and even being a mechanic. I ...
VIA DealerRater
Aug 5, 2020
Jonathan Albarca no pressure experience and knew his stuff. Felt like family and had a top notch service. I recommend their sales expertise. Buy a Jeep here you won't regret it! Thank you Marino Jeep
VIA DealerRater
Aug 4, 2020