---
Properly working brakes keep you and your passengers safe when riding near Skokie, IL. Before your brakes need to be replaced, it is a good idea to bring your car to our service and parts department at Marino Chrysler Jeep Dodge Ram for a checkup. Sometimes, you may be able to tell when your brakes need to be fixed; other times, subtle changes in the performance of your brakes may not be as apparent.
---
How Often Should You Fix Brakes?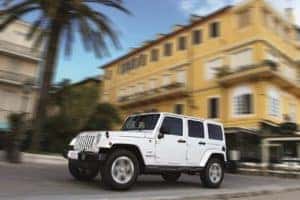 Depending on how you drive and in what different types of situations you put your car in determines how often you must fix your brakes. Cars may need a brake repair anywhere between every 25,000 to 75,000 miles, although it is best to check your owner's manual for a more accurate assessment of what the manufacturer recommends.
Many factors may contribute to a decrease in the effectiveness of your brakes, such as:
City driving: You use your brakes more often in stop-and-go traffic.
Speeding: Braking at higher speeds puts more pressure on your brakes.
Material used in brake system parts: Certain materials may endure city driving better than others, such as soft compounds. On the other hand, harder substances may require time to warm up and not exert as much heat.
Front brakes: Generally, you use the front brakes more often, so they may wear down more quickly.
---
How Often Do Brake Pads Need Replacing?
Brakes consist of two main parts, brake pads and rotors, that stop or slow your car down.
Brake pads must be replaced every so often on your car. Although they are considered common wear-and-tear items, they serve a valuable purpose in the brake system. They press against the brake disc or rotor to create friction that helps brakes stop your vehicle when in motion. Rotors also degrade from frequent usage and brake pads rubbing against them.
Get a quick inspection of the integrity of your brake pads and rotors at our dealer's service center while bringing your car in for a routine oil change.
---
Signs that You Need a Brake Repair near Skokie IL
If your brakes need tuning up, they will tell you in their own ways that they need to be repaired. These indicators give you a little nudge that a visit to our service and parts department may be just what your vehicle needs.
Signs that your brakes should be repaired include squealing sounds. These annoying yet harmless noises let you know that a service technician should examine your brakes. A vibrating or pulsating brake pedal may signal that the rotors may be warped and not as effective as they used to be.
If you depress your brake pedal, and the response time lags or the pedal sinks, this means that you may need an upgrade or repair. When your car veers toward one side when you brake, the brakes may need to be fixed.
---
Schedule Brake Repair near Skokie IL Today!
Brakes serve an important purpose in keeping drivers near Skokie, IL, safe when traveling within the region. One way to make sure that your brakes continue to be effective is to schedule a service appointment at Marino Chrysler Jeep Dodge Ram. Schedule online or give us a call!
---