How Long Does an Oil Change Take?

An oil change is an important maintenance item, especially in a place like Chicago, where the weather plays a role in your car's performance. For those in the Skokie, Park Ridge, and Forest Park area, your vehicle needs an oil change to run smoothly on the roads. How long does an oil change take? Our Marino Chrysler Jeep Dodge Ram service technicians are here to answer that critical question.
Not sure when your last oil change was? Stop by our service center and we'll be happy to take a look at your vehicle.

Do I Need an Oil Change?
How long does an oil change take? When professionally done by our service technicians, an oil change takes about 30 minutes. Along with changing the oil, we'll also check the oil filter. This filter is important because it keeps outside dust and debris from reaching the engine. It should be clean so it can do its job.
Changing the oil involves draining out the existing oil, changing the filter, and then placing the new oil into the engine. While we complete the oil change, we'll inspect the engine to ensure it's at full strength. Fluid levels will also be checked, including brake fluid and transmission fluid. If anything needs to be topped off, we'll handle that, too.
Clean oil is essential. If you've lifted the hood, taken a look at the oil, and it is not amber in color, it's likely time for an oil change.
Changing the Oil In Your Car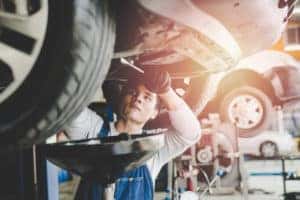 Each manufacturer has different recommendations about when the oil should be changed. It's a good idea to keep your owner's manual because it will let you know when to get that next oil change. If you have any questions about when to get an oil change, our service technicians will be sure to provide the answers.
Most vehicles these days can go up to 7,500 miles between oil changes, while other manufacturers may note to get an oil change every 5,000 miles or six months. If you drive in harsh weather often, go on a lot of short trips, or use your truck to tow, the oil may need to be changed sooner.
If you've heard noises coming from your engine, or there's an oil smell coming from inside the cabin, be sure to have our service team take a look at your car as soon as possible.
Stop by Our Service Center
Whether it's an oil change, a tire rotation, or brake pad replacement, our experienced service technicians know what solutions work best for your car. We do our best to make service as easy as possible, too.
A service appointment can be scheduled right from our website at any time. We'll be in touch to confirm your next appointment. You don't even have to pick up the phone to schedule that next oil change!
Schedule an Oil Change Today!
If your vehicle needs an oil change, schedule an appointment with the service professionals at Marino Chrysler Jeep Dodge Ram near Park Ridge. We make sure your car is ready for the roads near Skokie, Forest Park, and anywhere in Chicago and beyond!