Jeep Compass Dashboard Symbols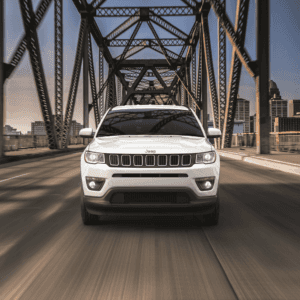 The Jeep Compass was designed to explore every bit of the Chicago, Skokie, Park Ridge, and Forest Park areas. However, while driving around, you may come across a particular light on the SUV's dashboard. While some are normal to see (indicator lights), others may refer to a more serious issue (warning lights). To help determine the difference, our team at Marino Chrysler Jeep Dodge Ram created this Jeep Compass dashboard symbols guide. We'll explain what indicator and warning lights are, along with some examples of each. Read all about them below, and contact us if you have any questions or want to learn more about your Jeep Compass' maintenance.
Indicator Lights
Jeep Compass indicator lights can come in various colors (yellow, white, green, blue, or gray), and simply tell you when aparticular system is currently at work in your vehicle. While their appearance is no cause for concern, if they don't turn on or off when they're supposed to, then your SUV will need to get looked at as soon as possible. The following are some indicator lights in the Jeep Compass…
4WD Low Indicator Light (if equipped): When you see 4WD LOW in all caps, then it means that the vehicle is currently in 4-wheel drive LOW mode.
High Beam Indicator Light: The light will appear as a capital "D" with several short horizontal lines to the left o f it, and simply means that the high beam headlights are on.
Forward Collision Indicator Light (if equipped): This is a light that looks like two cars heading toward each other with an arrow underneath. It means there's a possible collision with the car in front of you.
Forward Collision Warning Off Indicator Light (if equipped): It'll look like the light mentioned above, except it'll have OFF instead of the arrow. It means that Forward Collision Warning is off.
Turn Signal Indicator Lights: It looks like two arrows facing away from each other. Whenever the left or right turn signal is activated, the indicator will flash independently, and the corresponding exterior turn signal lamp will flash.
Warning Lights
Warning lights will appear in either red or yellow, and signal that there's a malfunction with one of the systems in the Compass. If any of these lights appear, you'll need to get your vehicle looked at as soon you can, to prevent further damage to it. Some warning lights in the Jeep Compass are…
Oil Pressure Warning Light: When you see an oil can, then the engine oil pressure is low. If it
comes on when driving, pull over safely and turn the engine off. Then, don't operate the car again until the issue has been resolved.
Seat Belt Reminder Warning Light: This light will appear as a person wearing a seat belt. If the driver or front passenger seat is occupied, but the seat belt isn't buckled, a chime will sound, and the light will turn on. It should then turn off once everyone is buckled in.
Anti-Lock Brake (ABS) Warning Light: The letters "ABS" inside a circle indicate that the anti-lock portion of the braking system isn't functioning correctly.
Low Fuel Warning Light: When you notice a light come on that looks like a fuel pump, it means the vehicle's fuel level has gone below two gallons. It should go away once you put more gas in the car.
Tire Pressure Monitoring System (TPMS) Warning Light: This light appears as an exclamation point inside an open circle. When it pops up on your dash, it means one or more of your tires has pressure that's lower than the recommended amount. It could also mean slow pressure loss is occurring. It should go away once you fill the tire or tires with the appropriate amount of air.
Auto Start/Stop Light
Save fuel using the auto start/stop system. When this system is activated, a green light will turn on in the dashboard area, with a symbol looking like the letter A surrounded by a circular arrow. Coming to a stop at a stoplight, for example, will turn the engine off. Just press the accelerator to seamlessly restart the engine and get moving again.
Schedule Service for Your Jeep Compass Today! 
If any of the lights mentioned above come up on your Jeep Compass dashboard, or if a different light appears, be sure to schedule service at Marino Chrysler Jeep Dodge Ram as soon as possible. Our certified technicians will work hard to get you back on the roads of Chicago, Skokie, Park Ridge, and Forest Park before you know it.