Dashboard Light Guides
Ever notice a little symbol light up in your car's instrument cluster? What does it mean, and what do you do to turn it off? These little lights are there to tell you when your car is experiencing a problem, so you can work to correct whatever is going wrong. However, when there's so many different lights on your dashboard, especially when you notice one that you've never seen before, you may not know what they all mean.
That's why our expert team here at Marino Chrysler Jeep Dodge Ram has created some simple and convenient guides to help drivers like you know just what to do when an indicator light comes on in your car. It's important to know what each light means, as some require immediate attention in order to stop vehicle damage that can result in the need for expensive repairs, or even create unsafe conditions for your drives around Chicago, Skokie, Park Ridge, and Forest Park. You can find all our dashboard light guides right here on this page.
Find Your Guide
Our dashboard light guides provide information about each specific model we carry. Each guide will present a breakdown of the most common indicator lights, outlining what they mean and the actions you should take next to prevent further problems.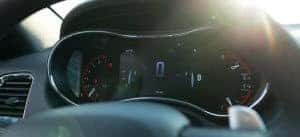 Some of these lights indicate the need to stop driving and take immediate action, while others are simply a reminder that you need to top-up a fluid soon. Knowing which is which is essential to making sure your car stays healthy and safe for your drives.
Dashboard Light Guide Benefits
After you read one of our dashboard light guides, you'll be equipped to handle whatever your vehicle throws your way. You can't know how serious a problem is unless you understand what each symbol means, so it's a good idea to study before you find yourself in the midst of a problem. Read our guides to discover exactly what to do when you see a specific symbol on your dash, and you'll be prepared for anything.
Discover Your Guide to Get Started
Learn about all that your car has to say by locating your specific model's guide right here on this page and clicking through to read. If you have additional questions, contact Marino Chrysler Jeep Dodge Ram and speak with a member of our expert staff.